Saved!
(2004)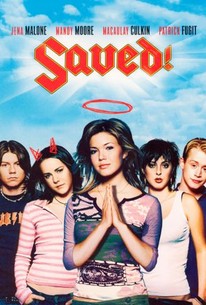 Movie Info
"Good girl" Mary and her domineering best friend, Hilary Faye, are starting their senior year at the top of the social food chain at American Eagle Christian High School--that is until Mary's boyfriend tells her that he thinks he may be gay. When Jesus appears to her in a vision, she heeds his message to "do everything she can to help her boyfriend" and, to her horror, she ends up pregnant. Suddenly, Mary begins to question everything she's believed in, and Hilary Faye and her devoted "disciples" soon turn against her. As an outcast, Mary finds herself alone until she's befriended by the school's other pariahs: Hilary Faye's cynical wheelchair-bound brother, Roland; the principal's skater heart-throb son, Patrick; and the high school's lone Jew, an exuberant rebel named Cassandra. The group of outsiders band together to navigate the treacherous halls of high school and make it to graduation--ultimately learning more about themselves, finding faith in unexpected places, and realizing what it truly means to be Saved!
News & Interviews for Saved!
Critic Reviews for Saved!
Audience Reviews for Saved!
Liked this a lot years ago. Not entirely sure it stands up to the 5 star rating I gave it, but at least a 4 still. Enjoyed my 2017 rewatch and seeing some of the stars who aren't so popular anymore. Still funny, maybe not quite as biting as it was 10 years ago.
Nicki Marie
Super Reviewer
I really liked this film! It was funny and it also gave out a positive message. A must see!
Bethany Murphy
Super Reviewer
A teen comedy with the typical cliques and baddies but also, many deep commentaries on love, sex, faith, humanity, and diversity. Every character achieves redemption in his or her own way, but that's okay because it echoes what the movie believes true Christianity should be. The "shit - fuck - Goddamn" scene is excellent.
Alice Shen
Super Reviewer
Saved! Quotes
| | |
| --- | --- |
| Roland: | What? It wasn't like it was some sort of secret. The guy was like a one man gay pride parade. |
| | |
| --- | --- |
| Mary: | Why would God make us all so different, if he wanted us to be the same? |
| | |
| --- | --- |
| Cassandra: | Did I ever tell you about the time I shoplifted a frozen turkey out of the Piggly Wiggly wearing only a tube top and some Daisy Dukes? |
| | |
| --- | --- |
| Mary: | Please let it be cancer! Please let it be cancer! Please let it be cancer! |