Saving Face
(2005)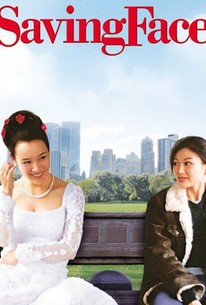 Movie Info
An Asian-American woman and her mother both find their private lives are becoming a family matter in this romantic comedy-drama. Wilhelmina Pang (Michelle Krusiec) is a surgeon living in Manhattan whose mother (Joan Chen) is eager for her to settle down with a nice man and get married. What Ma doesn't know is that Wilhelmina happens to be a lesbian -- or rather, Ma prefers not to acknowledge it, since she once walked in on Wilhelmina and her girlfriend several years before. As it happens, Wilhelmina is looking for someone special in her life, and thinks she may have found her in Vivian (Lynn Chen), a beautiful dancer, but a fear of commitment and a desire to keep her medical career on track is making their relationship problematic. As Wilhelmina tries to get her love life in order, her mother's shifts into crisis mode. Ma, a 48-year-old widow, has just discovered she's pregnant, and her staunchly traditional father (Li Zhiyu) will not allow her back into the home they share until she's married someone respectable. Unwilling to name the father of her baby, Ma is forced to move in with Wilhelmina, and while enduring the emotional roller coaster of pregnancy she is being pressured by friends and relatives to marry Cho (Nathaniel Geng), a sweet but boring man she doesn't especially like. Saving Face was the first feature film from writer and director Alice Wu.
Critic Reviews for Saving Face
Audience Reviews for Saving Face
Absolutely delightful. An American-Born-Chinese lesbian finds her world rocked when her widowed mother is disowned for getting pregnant out of wedlock. The story subverts stereotypes about race, gender, sexuality, and age, but it never seems to do too much. Enough time is spent on major and minor characters and plots. The end teeters on Joy Luck Club-level saccharine, but the performances are all nuanced and the bilingual script is seamless in mixing the elders' traditional Mandarin and the ABCs' mix of English and broken Mandarin. There is the requisite nagging Tiger Mom we've come to expect from Asian culture clash films, but Joan Chen brings a quieter, more sensual layer as well, since Ma is also back on the market. Michelle Krusiec, as the surgeon daughter, is brilliantly still and funny in a serious way. There are even a few mannerisms of hers that I know I do/did in my one short film acting experience. She, along with Carey Mulligan and Emmanuelle Béart, are actresses whose faces I'd like to wear, "Silence-of-the-Lambs"-style.
Alice Shen
Super Reviewer
An American-born Chinese doctor falls into a lesbian relationship with a woman who rejects the strictures of their shared culture against the backdrop of her mother's scandalous pregnancy. The first act of this film is positively delightful, a Chinese version of Imagine Me and You. Michelle Krusiec is a gem as Wil, full of quick wit and a reserved sexuality. Joan Chen perfectly captures the type of Chinese mom I've seen in real life, commanding yet somehow behind the times enough to make one cautious to rebel, feeling a sense of respect we automatically associate to antiquity. And Lynn Chen is the perfect leading lady to Krusiec's character. The film is about all the things one might expect, prejudice, modernity, and the need to rebel against the mores of the past. Obviously, these themes aren't new, but they seem fresh through writer/director Alice Wu's lens. The second and third acts were a little slow; it was almost as though the film had to stop to unravel itself, and the sharp, charming wit of the first act slipped away. Overall, Saving Face is a delightful film, and I hope to see more of Krusiec.
Jim Hunter
Super Reviewer
Ok, so when I first heard of this, the plot sort of threw me for a loop. Chinese lesbian? 50-year-old unmarried pregnant mother? This is risky stuff! But really, it's just poor man's Ang Lee. Given the plot, Alice Wu makes it seem as low-key as possible, which I guess is kind of the point? but doesn't make it any more interesting. It's a tolerable kind of movie.
Jennifer Xu
Super Reviewer
Saving Face Quotes
There are no approved quotes yet for this movie.