Saving Private Ryan
(1998)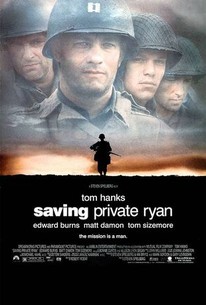 TOMATOMETER
AUDIENCE SCORE
Critic Consensus: Anchored by another winning performance from Tom Hanks, Steven Spielberg's unflinchingly realistic war film virtually redefines the genre.
Saving Private Ryan Videos
Saving Private Ryan Photos
Movie Info
Steven Spielberg directed this powerful, realistic re-creation of WWII's D-day invasion and the immediate aftermath. The story opens with a prologue in which a veteran brings his family to the American cemetery at Normandy, and a flashback then joins Capt. John Miller (Tom Hanks) and GIs in a landing craft making the June 6, 1944, approach to Omaha Beach to face devastating German artillery fire. This mass slaughter of American soldiers is depicted in a compelling, unforgettable 24-minute sequence. Miller's men slowly move forward to finally take a concrete pillbox. On the beach littered with bodies is one with the name "Ryan" stenciled on his backpack. Army Chief of Staff Gen. George C. Marshall (Harve Presnell), learning that three Ryan brothers from the same family have all been killed in a single week, requests that the surviving brother, Pvt. James Ryan (Matt Damon), be located and brought back to the United States. Capt. Miller gets the assignment, and he chooses a translator, Cpl. Upham (Jeremy Davis), skilled in language but not in combat, to join his squad of right-hand man Sgt. Horvath (Tom Sizemore), plus privates Mellish (Adam Goldberg), Medic Wade (Giovanni Ribisi), cynical Reiben (Edward Burns) from Brooklyn, Italian-American Caparzo (Vin Diesel), and religious Southerner Jackson (Barry Pepper), an ace sharpshooter who calls on the Lord while taking aim. Having previously experienced action in Italy and North Africa, the close-knit squad sets out through areas still thick with Nazis. After they lose one man in a skirmish at a bombed village, some in the group begin to question the logic of losing more lives to save a single soldier. The film's historical consultant is Stephen E. Ambrose, and the incident is based on a true occurance in Ambrose's 1994 bestseller D-Day: June 6, 1944. ~ Bhob Stewart, Rovi
News & Interviews for Saving Private Ryan
Critic Reviews for Saving Private Ryan
Audience Reviews for Saving Private Ryan
½
Technically exceptional and surprisingly unsentimental for Spielberg, this is a powerful and intense depiction of the brutality and horrors of war - a marvelous film that makes us deeply care about its characters and shows us that in war there is no honor, only death.
Carlos Magalhães
Super Reviewer
When Steven Spielberg was finally handed a long overdue Oscar in 1993, he received it for tackling the harrowing genocides of World War II in "Schindler's List". So far, he's only received two Best Director Awards and the other was fittingly received when he tackled the battlefields of that very same war in "Saving Private Ryan". Two different film's but equally as powerful as the other. During WWII, Chief of staff General Marshall (Harve Presnell) is informed of the death of three brothers in different conflicts and that their mother will receive the telegrams at the same time. A fourth brother, Private James Ryan (Matt Damon) is believed to be still alive, somewhere in the French countryside, and the decision is taken to locate him. Captain Miller (Tom Hanks), is given the rescue mission of leading his 2nd Ranger battalion through Nazi occupied territory to find Ryan and send him home. Spielberg is, quite simply, one of the finest filmmakers that has ever graced the craft. He is, and will continue to be, heralded throughout generations of audiences and that's with very good reason, as he's instilled a sense of awe and unadulterated entertainment for over 40 years now. Despite an impressive backlog of movies that consists of such classics like "Jaws", "Close Encounters...", "Raiders of the Lost Ark" and "E.T", the opening 25 minutes of "Saving Private Ryan" - where he thrusts us into the 1944 D-Day landings of Omaha Beach - is arguably his most impressive and certainly his most visceral work. It's absolutely exhausting in it's construction and sense of realism and the realisation soon sets in, that this cinematic autuer is not about to pull any punches in portraying a time in history that's very close to his heart. The opening is so commanding that some have criticised the film for not living up this grand and devastating scale but Spielberg has many more up his sleeve. He's just not able to deliver them too close together - otherwise, the film would be absolutely shattering and very difficult to get through. To bridge the gap between breathtaking battles scenes the film falls into a rather conventional storyline about men on a mission but it's only purpose is to keep the film flowing and allows Spielberg the ability to make the brutality of war more personal. Two scenes in particular, are as overwhelming as the opening to the film: the hand-to-hand combat between a German soldier and Private Mellish (played by Adam Goldberg) and the deeply emotional and ironic injuries of T-4 Medic Wade (played by Giovanni Ribisi). These moments in the film are the most difficult to watch but they only really work because we are allowed the time to bond with the characters beforehand and experience the combat with them. Each of them have a particular but very different appeal, making it harder to accept when some of them perish in savage and harrowing circumstances. The cast also deserve the utmost praise for making the roles their own; the always reliable Hanks is solid in the central role and there are exceptional performances from the first rate support, namely, Barry Pepper and the aforementioned Goldberg and Ribisi, who are all outstanding. Janusz Kaminski's magnificent cinematography is also starkly delivered; his images are both beautifully and horrifically captured and Spielberg's decision to desaturate the colour and adopt some handheld approaches, add an authenticity that's rarely been captured in the genre and brings another dimension to some of the finest and most realistic battle scenes ever committed to the screen. There's not much in the way of criticism that I can throw at this near masterpiece, other than Robert Rodat's script; the conventional plot strays into cliche where the Germans are completely stereotypical and there is absolutely no sign of an Allied soldier anywhere. Rodat would have you believe that America fought the war singlehandedly, but despite these discrepancies, the film has so much power that these faults can be overlooked. One of the darkest chapters in our history is viscerally captured in a raw and uncompromising piece of work from a virtuoso director, tapping into the highest of his abilities. Some may prefer the more fantastical and escapist nature of Spielberg, but for me, this is the finest film he's made. Mark Walker
Mark Walker
Super Reviewer
½
I don't think I've ever seen a war film as realistically portrayed as this one. There are scenes in "Saving Private Ryan" that still haunt me. It's filmed in a unique way that draws you into what's going on. You almost experience what the soldiers are going through, that's how powerful it is.
Eric Shankle
Super Reviewer
Saving Private Ryan Quotes
| | |
| --- | --- |
| Steamboat Willie: | Fuck Hitler. Fuck Hitler ! |
| | |
| --- | --- |
| Steamboat Willie: | I say can you see ! I say can you see ! I... I say... |
| | |
| --- | --- |
| Pvt. Caparzo: | Sir. The decent thing to do is at least take her to the next town |
| Pvt. Caparzo: | Sir. The decent thing to do is at least take her to the next town. |
| Capt. John Miller: | We're not here to do the decent thing. We're here to follow fuckin orders! |
| | |
| --- | --- |
| Private Richard Reiben: | You gonna shoot me over Ryan!? |
| Private Richard Reiben: | You gonna shoot me over Ryan? |
| Sgt. Horvath: | No, I'm gonna shoot you couse I don't like you |
| Sgt. Horvath: | No, I'm gonna shoot you couse I don't like you! |