Saw III
(2006)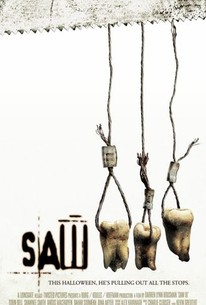 Movie Info
With his new apprentice Amanda (Shawnee Smith), the puppet-master behind the cruel, intricate games that have terrified a community and baffled police has once again eluded capture and vanished. While city detectives scramble to locate him, Doctor Lynn Denlon (Bahar Soomekh) and Jeff (Angus Macfayden) are unaware that they are about to become the latest pawns on his vicious chessboard.
News & Interviews for Saw III
Critic Reviews for Saw III
Audience Reviews for Saw III
This third chapter goes even beyond the high level of gore seen in the first two, pleasing the fans of the series (and gore-fest in general) but proving to be nearly unbearable for everyone else. Not as original, though, but it still offers a surprising conclusion.
Carlos Magalhães
Super Reviewer
½
Saw 3 is the the end of the trilogy of Jigsaw, but its just another Saw sequel that doesn't live up to the first. The plot is actually getting cliche and the same with every movie, but I still am that kind of person who completely loves the mysterious endings of the Saw films. The cast is ok I guess, I can't complain but if their is a Oscar for screaming your A$$ off to being tortured, these people would win. Saw 3 is not a bad film actually, but the problem is that (just like the second film) the movie just doesn't have that sense of excitement like the first, and i'm pretty sure none of the sequels will.
Jim Careter
Super Reviewer
½
Without a doubt my favourite Saw movie. The whole point of this movie, which I think some people miss, is to bring the standard "shock" of just how twisted some of the torture scenes are to a personal level. If you have kids, the themes hit you a little harder than any of the other themes in any other Saw movie. However, like every Saw movie, the plot becomes tiring as the twists and turns start to nauseate you rather than engross you. Slow down Bousman, my head hurts.
Unknown Hobo
Super Reviewer
Saw III Quotes
| | |
| --- | --- |
| Judge Halden: | Jeff! Just keep standing there, you're an accomplice to murder! Are you a murder? |
| Jeff Reinhart: | I've wanted to kill him everyday. For three years, I wanted to kill you. Yeah, maybe I am. |
| Judge Halden: | You'll lose your family. Your wife, your daughter! |
| | |
| --- | --- |
| Jeff Reinhart: | I forgive you. |
| | |
| --- | --- |
| Dr. Lynn Denlon: | Alright John, I need you to keep your head to the side and keep still. What's going on is that your brain is pushing against your skull; I'm going to try to relieve the pressure by cutting away a piece of your skull. It should help you with your headaches, and drastically improve your motor skills. Do you understand? |
| Dr. Lynn Denlon: | [before the surgery] Alright, John, I need you to keep your head to the side and keep still. What's going on here is your brain is pushing against your skull. I'm going to try and relieve the pressure by cutting away a little bit of your skull. It should help you with your headaches and drastically improve your motor skills. Do you understand? |
| Jigsaw: | All too well. |
| | |
| --- | --- |
| Dr. Lynn Denlon: | [while Amanda is comforting John] He can't hear you. He doesn't even know you're there. |