Saw IV
(2007)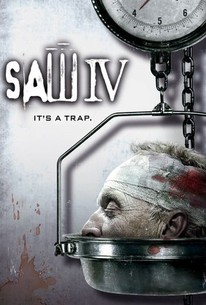 Movie Info
Jigsaw, as well as his apprentice Amanda, have died. After hearing of Detective Kerry's murder, two veteran FBI agents, Agent Strahm and Agent Perez, assist Detective Hoffman in sorting out the remains of Jigsaw's last game. However, SWAT Team Commander Rigg has been put into a deadly game himself, and has only an hour and a half to prevail over a series of twisted, horrifying traps to save an old friend, as well as himself, from a grisly demise.
Critic Reviews for Saw IV
Audience Reviews for Saw IV
Saw IV is not for everyone, of course, since each new movie of the series is only for those who have been watching from the beginning, and the plot is now more intricate then ever and much less original, even if it also has another shocking ending.
Carlos Magalhães
Super Reviewer
Saw IV is a bad film to make, and I know realize they should have stopped making Saw films after the first one. The plot is very boring, after the second film I thought "oh cool, this will all be one big story," but now I realize they are running out of ideas and are now making crappy sequels just to make money, and i mean come om, I know I am stupid for just realizing this, but where the hell do they have the time to make all these torture contraptions. The cast was just plain bad and they all were not even close as good as the original Saw film, and I like them less with each Saw film I watch. The torture scenes are still really gory, and they keep to their name of being a gory film, but its seems like that the movie is completely focusing on the torture scenes. I am watching the Saw films for the first time, so i have been watching them and now I have just finished the fourth, and I can tell you right now that I liked the endings of the first three, but this ending was not even close to as surprising as those films, and I was very disappointed. Saw 4 is just another Saw film, and even though I enjoyed the first film, I really have not come to enjoy the series, and I expect the more Saw films I watch, the more disappointed I will be.
Jim Careter
Super Reviewer
½
This is one of my least favourite Saw movies and that depresses me because it has a lot of good in it, yet somehow between trying to give us the history of John Kramer (Jigsaw) and keep up with the usual inovative gore fest that we know, I think this movie got a little lost along the way. It seemed hurried, overplotted and fragmented at times with a confusing ending that never really tied up any of the loose strings of the other movies, like the three before it did so splendidly. Disappointing.
Unknown Hobo
Super Reviewer
Saw IV Quotes
| | |
| --- | --- |
| Tracy: | What you can't do... is save everyone. |
| Tracy: | What you can't do, is save everyone. |
| | |
| --- | --- |
| Cecil: | I don't have a fucking soul. |
| | |
| --- | --- |
| Agent Strahm: | Girl loves boy, Boy loves girl. Boy gets girl pregnant, Girl loses baby... boy turns into a serial killer. Jill, I'm not buying it. |
| | |
| --- | --- |
| Jigsaw/John: | You don't want to do that. |
| Cecil: | The fuck's your problem? |
| Jigsaw/John: | You're my problem... and you're becoming everybody else's too. |