Say Anything...
(1989)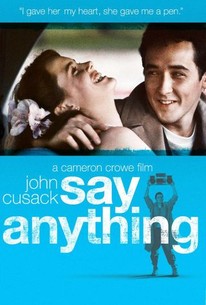 TOMATOMETER
AUDIENCE SCORE
Critic Consensus: One of the definitive Generation X movies, Say Anything... is equally funny and heartfelt -- and it established John Cusack as an icon for left-of-center types everywhere.
Movie Info
A high-school valedictorian begins dating an irresponsible army brat, much to the dismay of her father. After breaking off the relationship and being pursued for the remainder of the summer by the boy she dropped, she finds that there's much more to life than just perfection.
News & Interviews for Say Anything...
Critic Reviews for Say Anything...
Audience Reviews for Say Anything...
½
Lloyd Dobler: I gave her my heart, and she gave me a pen. "She's got everything going for her. He's going for her with everything he's got." Say Anything is every bit the classic romantic comedy I expected. Cameron Crowe is a good, if slightly cutesy writer and director, and Say Anything is a great film from him. The movie has the 80's written all over it and has some of the more recognizable lines and scenes of that decade. Plus it has John Cusack giving the best performance I've seen from him and also Ione Skye who plays his love interest is terrific as well. Lloyd has just graduated high school, but has no ambitions of what to do now. All he knows is he wants Diane Court, a brilliant girl who graduated with him, but nobody really knows because she was off taking college classes. Lloyd begs a date out of her and before long she starts falling for him, which her father disapproves of strongly. So who will she choose, her dad or Lloyd? I enjoyed this movie thoroughly. It isn't a masterpiece or anything like that, but it's a really good and fun romantic comedy. John Cusack is phenomenal as the babbling underachiever Lloyd and Ione Skye makes it easy to see why Lloyd fell so head over heels for Diane. Say Anything is certainly one that is worth watching.
Melvin White
Super Reviewer
½
Ione Skye's performance can be super shaky, but, other times, especially the ending, she's on the top of her game. A contemporary model of how to do these "youth" movies right.
Kevin Cookman
Super Reviewer
There may be films that make you question romance, and whether it is all worth it, but this film is completely different. It is a confirmation that love exits, and no matter what the circumstances may be, giving up everything will be worth it in the end. "Say Anything" follows Lloyd Dobler (John Cusack), a lowlife, high-spirited teenager who's only life promise is to be with Diane Court (Ione Skye). This film provides the essentials in romance filmmaking, having the jocks, the assholes, the pretty boys, the drunks and crack addicts, but most of all, the middle man, who understands everything, but is unsure of what to make of his life. When Diane's father begins to prevent their connection, it will tug on your heartstrings until the snap. "Say Anything" is not just an amazing film, but it is one of the best romance films that I have ever seen! If you have not seen this film, you have no idea what you are missing!
Say Anything... Quotes
| | |
| --- | --- |
| Lloyd: | So when you hear the smoking sign go 'ding', you know everything's going to be okay. |
| | |
| --- | --- |
| Lloyd: | I don't want to sell anything, buy anything, or process anything as a career. I don't want to sell anything bought or processed, or buy anything sold or processed, or process anything sold, bought, or processed, or repair anything sold, bought, or processed. You know, as a career, I don't want to do that. |
| | |
| --- | --- |
| Diane: | Nobody really thinks it will work, do they? |
| Lloyd: | No. You just described every great success story. |