Say It Isn't So
(2001)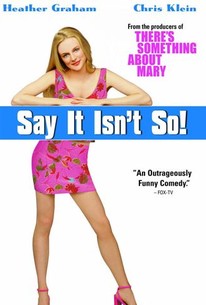 TOMATOMETER
AUDIENCE SCORE
Critic Consensus: Those that haven't tired from Farrelly brothers' brand of comedy may still find some laughs here. Otherwise, the slow pacing and unimaginative shock gags will start to wear on the viewer.
Movie Info
Bobby Farrelly and brother Peter Farrelly continue exploring outrageous premises with this comedy directed by their first assistant director J.B. Rogers. In this wacky spin on the boy-meets-girl tale, Gilly Noble (Chris Klein) enters a sexually charged, passionate love affair with girl of his dreams Jo Wingfield (Heather Graham). After a happy time together, they soon realize that they are brother and sister and quickly break it off. Jo begins a new life elsewhere and Gilly is left heartbroken -- until he learns that Jo is not actually his sister; the incest suggestion was in fact a lie begun by a meddlesome third party. As Gilly travels to meet up with his beloved, he finds out that Jo is engaged to be married to another man; he must put a stop to it, even while everyone still believes he is Jo's sibling and is committing an unnatural act. Say It Isn't So also features Sally Field, Orlando Jones, and Farrelly stalwarts Richard Jenkins and Lin Shaye. ~ Jason Clark, Rovi
Critic Reviews for Say It Isn't So
Audience Reviews for Say It Isn't So
I really don't understand all the flack that this film has gotten. I found it pretty funny for what it was. Sure it's not as great as other comedic gems, but this film really does provide you with a few good chuckles. I really enjoyed the film, and I thought it was a perfect mindless comedy to watch with friends and enjoy. If you're in the right state of mind, you are sure to enjoy this film. Don't expect anything great with this film, as it is definitely a crazy film. The standout of the film is Orlando Jones as Dig McCaffey; I thought he stole the show and it worthwhile. I think that this film is really underrated and is actually pretty funny. This is one of those comedies that you have to shut off your brain to enjoy. Not perfect in any way, Say it Isn't So is tasteless humor at its finest. Sometimes all you need is a good little comedy like this to make you laugh. I very much liked the film, and thought it was pretty funny for what it was. Sure, there are things that really don't work here, but for the most part, it succeeds at making you chuckle and it's fairly entertaining as well. If you want a good, mindless underrated comedy, then give this one a shot, not perfect, but far from bad as well. Go into this one with an open mind, and you may like it. If mindless laughter is what you're looking for, then this is the film for you. This is a film that really doesn't deserve the flack it has received, and you should at least check it out before you make up your mind. It's better than what most people have said about it.
½
First of all, I was disappointed that the Farrellys didn't take the director's seat on this one. I hate when previews mislead you like that. Nine times out of ten, when you hear the announcer in a trailer say, "from horror master Wes Craven" or something of that sort, it means the well-known director is a producer or executive producer in the project, like in this case. But it still has that Farrelly vibe, since J.B. Rogers worked as the A.D. in their previous works. The movie gets off to a slow start. The gags start off pretty lame. And most of the funny parts shown were given away in the previews. We're handed a lot of quirks, but the comedy doesn't quite gel. We have Richard Jenkins as a wheelchair-bound father, who uses excessive profanity through a voice-box. So far, we're pushing the envelope, but the laughs haven't entirely arrived. I have to admit, though, the nipple-piercing scene was very funny. Luckily, that scene wasn't completely given away in the trailers, because quite frankly--it couldn't be shown on network television. The film speeds up the comedy with the arrival of Orlando Jones as a pilot with artificial legs and a Jimmi Hendrix hairdo. For some reason, the Farrellys have an obsession with handicapped characters. Jones is very funny, and brings in the film's biggest laughs. I also think we wander into one-joke territory one time too many. OK, the guy banged his sister. It was funny at first. How many times do we have to hear it repeated in the next gag...and the gag after that...and the gag after that? But the gags improve as we go along, and I got more and more laughs. By the last thirty minutes, I was laughing myself silly! So I wouldn't say this comedy is anywhere near as bad as most people said it was. "Say It Isn't So" isn't the best comedy of the year, but it often delivers. And it's one of the few comedies that gets funnier as it goes along, rather than starting off with a bang and dragging on as it progresses.
MisterYoda ?
Super Reviewer
This movie was really lame. A waste of film is what I like to call these kinds of movies. I only watched it cause it was the only thing on t.v. on a Sunday. Waste of time. Would have been better off staring at a wall.
♥˩ƳИИ ƜѲѲƉƧ♥
Super Reviewer
Say It Isn't So Quotes
There are no approved quotes yet for this movie.