Sayonara
(1957)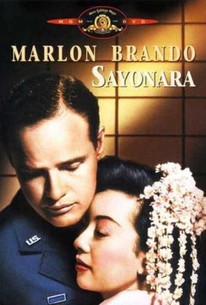 Movie Info
Sayonara takes its own sweet time to unfold; in so doing, it permits us to make intimate acquaintance with its characters, so as to better understand their multitextured motivations. The film is set in Japan during the Korean War. While on leave, pugnacious American soldier Red Buttons falls in love with Japanese maiden Miyoshi Umeki. Given the army's official policy against interracial marriage, Buttons is courting a court-martial. His best friend, major Marlon Brando, tries to talk Buttons out of "ruining" his life. Brando himself is about to marry Patricia Owens, the daughter of general Kent Smith. Fighting back his own prejudices, Brando agrees to be Buttons' best man at the latter's wedding to Umeki. Later, Brando himself falls for Miiko Taka, a beautiful Kabuki dancer. This sparks an all-out onslaught of racial bigotry from the Army brass, and an official edict sending American soldiers back to the states without their Japanese wives. Buttons cannot bear being parted with Umeki; as a result, the two commit suicide. The tragedy compels the army to soften its attitudes towards miscegenation. Brando is reunited with Taka, who in a parallel situation has had to ward off the inbred prejudices of her people. Nominated for ten Academy Awards, Sayonara won five, including "Best Supporting Actor" (Red Buttons, whose moribund career was revitalized herein) and "Best Supporting Actress" (Miyoshi Umeki). And yes, that is Ricardo Montalban in Japanese makeup as a Kabuki actor.
News & Interviews for Sayonara
Critic Reviews for Sayonara
Audience Reviews for Sayonara
"My woman from Tokyo, she makes me see!" Well, actually, this man's woman is from Kobe, but, hey, the military ostensibly can't even tell the difference between the Koreans and the Japs in this film, because even though this film is set during the Korean Conflict, they're trying to get said woman from Kobe out. You can see the irony in the fact that this '50s Southern man is opposing prejudice, but then again, Marlon Brando apparently improvised the accent. Nevertheless, Japan was, like, ten years ago, folks in this movie, and you need to get over it, because there are plenty of other Asian nations to feud with, and at the rate this film is going, it ought to cover them all by the time the credits roll. There's been, like, a million properties titled "The Long Goodbye", so they could have called this, I don't know, "The Long Sayonara", and let people know what they're in for. That would be such a cliché, but hey, it's no more of a cliché than nicknaming this Air Force act flier "Ace", or an Asian fetish that I don't entirely get. Brando was bi and ended up having 16 kids, so I'm sure there are a lot of things that he was into that wouldn't be interested in, unless, of course, they made a movie out of it, because this film is quite interesting, although the Ace character's name and particular taste in women are not the only things in this film which are a little familiar. A military drama, a cultural celebration, and a star-crossed romance, this film is refreshing in how it entangles its various themes into a singular vision, but it doesn't do much of anything new with the respective traits, being rather predictable from various angles, with tropes that include histrionics. As a matter of fact, considering how long the film is, it's only a matter of time before it hits histrionics, no matter how mild, but otherwise, a sense of melodrama derives almost entirely from the sentimentality in Joshua Logan's direction, which is mostly resonant in its dramatic atmosphere, until reaching certain tonal excesses that by no means marks the end of the excess in this film. Coming very close to a runtime of two-and-a-half hours, the film is much too blasted long, with draggy and repetitious dialogue pieces, and too much exposition on individual layers in this branched and segmented narrative, leading to lapses in a sense of progression. As if it's not awkward enough that excessive structuring sees plotlines regarding the leads' friend's interracial marriage, an exploration of Japanese culture, and the lead's personal romantic conflicts outstaying their welcome enough for the other segments to lose focus before too long, the central plotline is often so aimless in its excess and meanderings that is takes much too long to get to a predictable point, focusing on the lead losing his original love, then winning over his true love, and then having his love challenged by his peers. Lloyd "Ace" Gruver's love interests receive an unbalanced amount of attention, and Gruver's other affairs, for that matter, are juggled messily, thus, the film is uneven and aimless to the point of being rather unfocused, and that's all fine and good, because the film is ultimately very compelling from most every angle, but, with that said, the excessive length and flimsy structure just go to show you how unspectacular this story is. This is no epic, no matter what the runtime may say, as it's a rather straightforward drama that is driven by dialogue and no extreme dangers, and although the story remains compelling in its concept and in its telling, the predictability, sentimentality, unevenness and aimlessness stress natural shortcomings and shake up momentum, almost to the point of shaking off a rewarding status. The final product tries one's patience, but so long as that patience stands firm, it is sure to be paid off, for although the film is unspectacular with its plot and disjointed with its storytelling, it holds your attention plenty, partly from an aesthetic angle. For 1957, the film is remarkably good-looking, with Ellsworth Fredericks delivering on cinematography that is relatively crisp in definition, and lush in coloration, while carrying a certain scope that does further justice to an expansive observation of the environments and cultures of Japan, enhanced by Ted Haworth's Oscar-winning art direction. As a celebration of Japanese culture, this film hits the nail on the head in its lavishly distinguishing its environments and the other attractive traits of its setting, so if nothing else holds your attention throughout this overlong affair, it is the striking visual style and haunting visuals, and yet, this story explores much more than a lovely culture. This story may not be especially original, or have the scope or great consequentiality that are insinuated in a runtime of almost two-and-a-half hours, but to say that it is not especially compelling is inaccurate, for there is still plenty of depth to this narrative, of a human nature that is backed by themes regarding prejudice in respectable outfits, and is brought to life by a strong script. Paul Osborn's script is excessive, make no mistake, with aimlessness and unevenness that shake a sense of focus and progression at times, and yet, the point is that it takes its time to flesh out its characters and layers, and along the way, it holds your attention through sharp dialogue and a fair, clever sense of humor, while taking on potentially melodramatic genuineness with a surprising deal of genuineness, more often than not, at least. Again, it's Joshua Logan's sentimental direction which most challenges a sense of dramatic genuineness, and even then, on top of the being charming, the sentimentality is generally controlled enough to get across the weight of this subject matter with resonance, and a sense of importance that could have been lost amidst all of the dragging, which Logan makes more comfortable through tight pacing that keeps up an adequate degree of entertainment value. Really, color, charm and resonance are mostly encompassed in the cast, which is comprised of effective talents ranging from the subtly layered Red Buttons and Miyoshi Umeki, to the beautiful and humanized Patricia Owens and Miiko Taka, none of whom are quite up to par with leading man Marlon Brando, who delivers on explosive charisma and impeccable line delivery which get you invested into the grounded, likable nature of the flawed Lloyd "Ace" Gruver character, until incorporating a dramatic subtlety and grace that captures the lead's depths better than the storytellers. You can feel Gruver's change of heart when he finds true love, and you can feel his pain when that love and the love of his friends go opposed by figures he holds in high regard, and considering that, with all of its inconsistences, the film hardly every turns its attention away from Gruver, Brando carries this non-epic, but not quite alone, for although there's a lot to challenge one's patience, there is enough to maintain one's investment and make this minimalist, but piercing drama rewarding. In the end, there is some familiarity and sentimentality to shake the dramatic momentum of this film, while other forms of momentum go shaken up something fierce by an excessive and repetitious structure that begets a sense of unevenness and aimlessness behind a story of very limited scale, thus, nearly two-and-a-half hours don't entirely pay off, but through lavish cinematography, locations and art direction, the cleverly written and genuinely directed telling of a thematically and dramatically important story, and a solid cast from which Marlon Brando stands out, there is enough payoff to make Joshua Logan's "Sayonara" a rewarding military and star-crossed lovers drama. 3/5 - Good
Cameron Johnson
Super Reviewer
½
Brando takes a break from serious films to earn a bit of cash and some recognition in Sayonara. It lacks freshness today and likely can only be viewed as something that must be seen if you need to see the entire Brando cannon.
John Ballantine
Super Reviewer
I saw Sayonara a long time ago after a friend recommended it to me. It is a great love story. It has some funny moments, some sad moments, some senti moments, and some very weird moments. Over all fine Movie you d want to watch again.
Sayonara Quotes
There are no approved quotes yet for this movie.