A Scanner Darkly
(2006)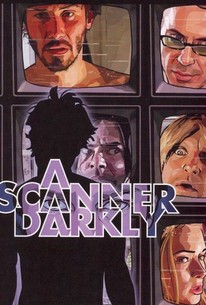 TOMATOMETER
AUDIENCE SCORE
Critic Consensus: A faithful adaptation of Philip K. Dick's novel, A Scanner Darkly takes the viewer on a visual and mind-blowing journey into the author's conception of a drug-addled and politically unstable world.
Movie Info
Set in a future world where America has lost the war on drugs, an undercover cop, Fred, is one of many agents hooked on the popular drug Substance D, which causes its users to develop split personalities. Fred, for instance, is also Bob, a notorious drug dealer. Along with his superior officers, Fred sets up an elaborate scheme to catch Bob and tear down his operation.
Critic Reviews for A Scanner Darkly
Audience Reviews for A Scanner Darkly
In 2001, director Richard Linklater delivered a little-seen, gem of a film called Waking Life. Many didn't pay notice to it which is one of many a film viewers biggest mistakes. Granted, the philosophical material may not have been everyone's idea of entertainment but this film pioneered a filmmaking technique that, simply, shouldn't have been overlooked. Linklater approached Waking Life with an animation method called "Rotoscoping". Basically it was animation added over live actors and it's a process that can be painstaking to deliver. The results were hugely effective for the material and, five years later, he decided to use the technique again on his adaptation of Philip K. Dick's paranoid science fiction novel, A Scanner Darkly. Once again, the results are very impressive. In the near future, Bob Arctor (Keanu Reeves) an undercover cop, is given the assignment to bring down a vast network of drug distribution, dealing in "Substance D" which is highly addictive and mind altering. He fully immerses himself in the lifestyle, to the point were he has become an addict himself and even his superiors don't know his cover story. As a result, they order him to spy on himself. Being under the influence regularly, it causes him to lose his grip on reality where nothing is clear anymore. Before this film went into production, it had gained interest from a couple of notable players in the film industry. Director Terry Gilliam was interested in the early 90's and screenwriter Charlie Kaufman had actually drafted a screenplay that was eventually unused once he became more sought after following the success of Being John Malkovich. One can only wonder at what might have become of an adaptation had they been involved but that doesn't lessen the fact that Linklater does a sterling job here. For a start, his decision to implement the interpolated rotoscoping animation again is a stroke of genius. On Waking Life it complimented the existential dream-like story and it's used similarly on this film. It's a technique that could be in danger of overuse but when the story and characters themselves are operating from an occasional surreal point of view, rotoscoping is perfectly fitting. It serves as a metaphor for the characters' drug induced alternate realities and allows us to identify with their paranoia and the struggle with their personal identity. You'd be forgiven for thinking that it might take away from the actors performances but it doesn't. In some ways it enhances them. Reeves is an actor that has came in for some criticism throughout his career but he's really rather good here and the support, from Harrelson and especially Downey Jr, is excellent. Who better to be included in a film of substance abuse than a couple of actors who have dabbled with both herbal and chemical remedies in their time? The script is also very faithful to Philip K. Dick's own source material. You can tell Linklater has invested a lot of his time in adapting, what is essentially, some of Dick's own paranoid thoughts â" he was heavily involved in the abuse of amphetamines and psychedelics at the time of writing it and explores the usual themes involved in his novels; the sociological and political aspects of human society under the control of an authoritarian government. If your a fan of Dick's musings then you'll find them all here. Some may find fault with the film's slightly lethargic pace but the visuals and thought provoking content are so captivating that the pace can be forgiven. Sometimes Philip K. Dick's stories are not afforded the proper treatment in movies; there are stinkers like Nicolas Cage's Next and Ben Affleck's Paycheck but this ranks very highly alongside the successful adaptations like Total Recall and Blade Runner. Linklater's attention and commitment to Philip K Dick's challenging material pays off and he produces a thought-provoking head-trip of a film that delivers both intellectually and visually. Mark Walker
Mark Walker
Super Reviewer
A visual stunner, I think through what they call rotoscoping. Regular film is made to look as if it were animated. A bunch of dope heads have practically the same and usual hallucinatory and paranoid antics together that all dopeheads have (if you've been there you know what I mean). It coulda used some more story somehow...the best takeaway, after the animation, is watching the actors let fly.
Kevin M. Williams
Super Reviewer
Rotoscoping is not a technique I had come across before, or since, so I have nothing to compare it to when reviewing 'A Scanner Darkly'. What can be said for certain however is that the film is beyond anything else beautifully made, and whilst a few shaky performances let it down at times, the underlying message of the film is injected right into the viewer's skulls. Based on the book by Philip K. Dick, his most personal work, examining drug abuse and the way society treats drug addicts, 'A Scanner Darkly' tells the story of undercover cop Keanu Reeves, (hold on hasn't he done this before), as he infiltrates a 'substance D' group, a new drug everyone is addicted to. However as Reeves does so he himself becomes addicted to the drug and begins developing a split personality, forgetting who he really is. Linklater has always and will always remain an indie filmmaker, so its no surprise that 'A Scanner Darkly' did not deliver the goods at the box office, picking up little over five million pounds. But more people need to know about this film and dig it out at their local independent dvd shop, for it is the only place you'll find it, because it is deserving of a viewing for both its visual and storytelling capabilities. Whilst Keanu Reeves plays himself again, this time he does it quite well, whilst Robert Downey Junior and Woody Harrelson bring on the best performances to the piece. The story is difficult to follow, not of course helped by mind bending rotoscoping and confusing sci-fi items such as the suits the undercover police officers wear. However it is a terrific story, like all K. Dick material, which shocks you into considering the big questions in a dystopian yet highly relatable setting. The issues of powerful totalitarian states, drug abuse, drug treatment and general paranoia are examined, never in too much detail, but with the right balance of black humour and seriousness. Whilst I would perhaps like to see this story adapted in real life motion, the rotoscoping does more to add than take away from the material and viewing experience, creating an enjoyable film which hits higher than the average indie drama flick.
Adam Kelly
Super Reviewer
A Scanner Darkly Quotes
| | |
| --- | --- |
| Bob Arctor: | I saw death rising from the earth...from the ground itself...in one blue field. |
| | |
| --- | --- |
| Charles Freck: | What do you think about the New Path? |
| James 'Jim' Barris: | While it doesn't matter what I think, I kinda have to tip my hat to any entity that can bring so much integrity to evil. |
| | |
| --- | --- |
| James 'Jim' Barris: | In this day and age, the type of society we find ourselves living in, every person of worth needs to have a gun at all times to protect themselves. |
| | |
| --- | --- |
| James 'Jim' Barris: | This is a world getting progressively worse. Can we not agree on that? |