Scaramouche
(1952)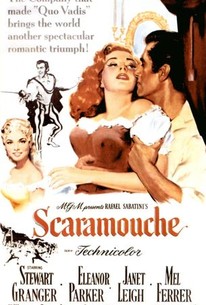 AUDIENCE SCORE
Critic Consensus: No consensus yet.
Movie Info
This delightful adaptation of Rafael Sabatini's swashbuckling novel stars Stewart Granger as Andre Moreau, an 18th-century French nobleman who is publicly humiliated by the Marquis de Maynes (Mel Ferrer). Challenged to a sword duel by the Marquis, Andre, who knows nothing about fencing, runs away, taking refuge with a theatrical troupe. He hides behind the personality of Scaramouche, a zany clown, and in his spare time romances his sexy leading lady Lenore (Eleanor Parker). Seeking revenge against de Maynes, Andre takes fencing lessons from swordmaster Doutreval (John Dehner). It isn't long before Andre has developed a reputation as the finest swordsman in France--which, as intended, arouses the ire of de Maynes. The two opponents face off in a deserted theater; the ensuing sword duel, running nearly seven minutes, is one of the best ever committed to film. Before he can plunge his blade into de Maynes, Andre discovers that he and the Marquis are half-brothers. The two men instantly forget their differences, and Andre's honor is fully restored. He ends up not in the arms of the sensuous Lenore but with a woman of his own class, Aline de Gavrillac (Janet Leigh)--while a gag ending reveals that Lenore has found herself a new and highly influential boyfriend. Lewis Stone, star of the 1923 silent version of Scaramouche, appears in the remake in the supporting role of Georges de Valmorin. ~ Hal Erickson, Rovi
Critic Reviews for Scaramouche
All Critics (4) | Fresh (2) | Rotten (2)
An energetic costumed swashbuckler, or sword-opera, adapted from the Sabatini novel. Stewart Granger and Mel Ferrer are the taunting duelists.
It's best remembered for the longest sword duel in cinema history at 6 1/2 minutes.
Audience Reviews for Scaramouche
½
"Scaramouche" may be overly melodramatic and have a storyline more prone in a soap opera whose ratings have slumped, but that doesn't make this a bad film. On the contrary, this film includes some of the greatest choreographed sword fights ever caught on film, including the finale that lasts more than five minutes. If there is anything in the film that I could do without, it's the love story aspect of the film and the constant nagging of Eleanor Parker's character that since Andre (Stewart Granger) has his head elsewhere and she doesn't know he's practicing to become a better swordsmen that he must be in love with another woman. Maybe fifteen minutes of the film is her accusing him of loving Janet Leigh's character when she turns out to be his half-sister. The technicolor is fantastic and the sets and costumes are amazing. I just am not too sure if the gowns worn by the women were time appropriate?
Joseph Boomhower
Super Reviewer
Delightful adaptation of Sabatini's comic-swashbuckler. Memorable, epic six-and-a-half minute climactic swordfight in a deserted theater between the well-cast Stewart Granger and Mel Ferrer.
hawk ledge
Super Reviewer
'he was born with a gift of laughter and a sense that the world was mad.' one of the best costume epics of the 50s (tbh i hate most of those films.) stewart granger masquerades as an actor until the day he can take revenge for the death of his friend in the early days of the french revolution. famously contains the longest swordfight ever filmed. mel ferrer makes a great haughty villain and janet leigh and eleanor parker look fetching in period garb. from a novel by rafael sabatini, author of some of my pirate faves: the sea hawk, captain blood and the black swan
Stella Dallas
Super Reviewer
Scaramouche Quotes
There are no approved quotes yet for this movie.