Scarface
(1983)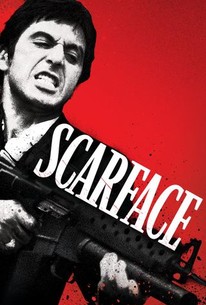 TOMATOMETER
AUDIENCE SCORE
Critic Consensus: Director Brian De Palma and star Al Pacino take it to the limit in this stylized, ultra-violent and eminently quotable gangster epic that walks a thin white line between moral drama and celebratory excess.
Movie Info
Al Pacino stars as Tony Montana, an exiled Cuban criminal who goes to work for Miami drug lord Robert Loggia. Montana rises to the top of Florida's crime chain, appropriating Loggia's cokehead mistress (Michelle Pfeiffer) in the process. Howard Hawks' "X Marks the Spot" motif in depicting the story line's many murders is dispensed with in the 1983 Scarface; instead, we are inundated with blood by the bucketful, especially in the now-infamous buzz saw scene. One carry-over from the original Scarface is Tony Montana's incestuous yearnings for his sister Gina (Mary Elizabeth Mastrantonio). The screenplay for the 1983 Scarface was written by Oliver Stone. ~ Hal Erickson, Rovi
Critic Reviews for Scarface
Audience Reviews for Scarface
I can see why this was such a big film for the time it was made in '83. Very violent, gritty, some shocking scenes and tons of swearing. Having finally seen it, you can see how it has influenced countless other gangster films since. Why it is very enjoyable and entertaining I wouldn't quite rate it as a masterpiece. The plot is actually very basic and straight forward and very predictable. Al pacino performance is what this film is all about, that and the bench mark for every gangster film made since.
Daniel J DeMersseman
Super Reviewer
"Scarface" is one of those must see films that everyone who loves crime thrillers needs to see, if only for the intense character portrait of crime. This three hour gore fest tells the tale of Cuban refugee Tony Montagna, who rises through the ranks of a crime syndicate until he is the reigning king of the drug scene in eighties' Miami. What fascinates viewers is the fragility of the organization, and how fraught with violence the film is, initially putting a lot of people off. Tony only gets as far as he does because he trusts no one, is only out for himself, and revels in the blood and cocaine madness of his empire. While he comes to the United States bedraggled and full of vinegar, he slowly morphs into an opportunistic henchman, happy to be seen as the working man, oblivious to the death and destruction of his actions, and jealous of everyone and everything that stands in his way. He is our protagonist but he is also our villain, so bloodthirsty and autonomous that it's pretty frightening to think he holds most of the power. Though Tony breaks down doors in order to become the king, he also steps on a lot of people to get there, so it's obvious that his world will crumble around him quickly. The casting is perfect for this film. Pacino portrays an embittered, hate-filled Montagna, which makes for a volatile performance. Michelle Pfeiffer stars as the prize that he longs to grasp within his claws, while being both frigidly cold and hopelessly angry, making for a great dynamic between the two characters. Besides this film being great in its realistic depiction of a drug enterprise, it's also a great crime film. The seventies and eighties were rife with stories of kingpins and gangsters, but this is the first that shows the arrogance and self-indulgence of cocaine, and its place in real life 1980s Miami. This film both demonizes the exploits of its lead while also showing the extravagance that crime comes with, and that's an intense balance to find. De Palma masters this balance by showing the motivations of the character, and the lengths he is willing to go to find success in his adopted country. That's why this film stands the test of time, and illustrates the grandiosity of the drug trade in full.
Spencer S.
Super Reviewer
Scarface Quotes
| | |
| --- | --- |
| Tony Montana: | Hey Ernie? You wanna job? |
| | |
| --- | --- |
| Tony Montana: | Say hello to my little friend! |
| | |
| --- | --- |
| Tony Montana: | "This country was built on laundered money". |
| Tony Montana: | This country was built on laundered money. |
| | |
| --- | --- |
| Tony Montana: | You worry too much.Your gonna have a heart attack. |