The Scarlet and the Black
(1983)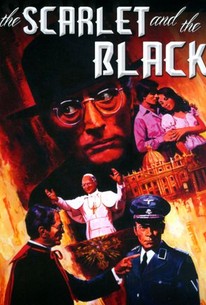 AUDIENCE SCORE
Critic Consensus: No consensus yet.
The Scarlet and the Black Photos
Movie Info
In this made-for-TV movie, Gregory Peck plays Monsignor Hugh O'Flaherty, a real-life cleric who, during WWII, rescued thousands of escaped POWs from the Gestapo. Christopher Plummer co-stars as the Rome-based SS official who tries to catch O'Flaherty in the act.
Audience Reviews for The Scarlet and the Black
½
A great history lesson with fantastic sets. Gregory Pack is a little underwhelming and cliche, but still powerful in his role. Nice work by Plummer. Good costumes. It's really exceptionally well put together for a made-for-TV film.
Christian C
Super Reviewer
½
If you look at the premise and the cast, you can rightfully expect a antagonistic tour de force and this is what you get. While the evil vs. good fight is quite generic and stale at times, offering nothing that has not been said and done about the infernal nazis and their enemies, the two figureheads of their respective parties embody it in such an enigmatic way, it's a delight to behold. It takes some time for the pairing to be lined up in the film and it is towards the end that the showdown between the characters culminates and makes this film truly shine. The supporting cast is good, but nothing to write home about. At times, the film sports an unexpected cat & mouse quality and almost feels like a thriller, but the pacing slows down way too often to make this anywhere near a nailbiter. Instead, it is a broody and pondersome character study about will, obsession and ultimately faith ( in whatever it may be). The film is a tad too long and the soundtrack - while good - just does not go well with the tragic undertone of the whole film. One thing that annoyed me and busted down the rating from a clean 4 star rating is the depicition of the Catholic church as neutral and even good in parts. Well all now that those cowardly bastards and charlatans did not do anything to fight and oppose the nazi regime and even collaborated with them in parts. This should not really influence of your enjoyment, since this film depicts the heroism of an individual that just happens to be a priest, but don't ever forget that the church and all its lackeys supported the Nazis. Anyhow, enough ranting, 'tis a good film.
Henrik Schunk
Super Reviewer
Tom Ericksen
Super Reviewer
The Scarlet and the Black Quotes
There are no approved quotes yet for this movie.