Scarlet Street
(1945)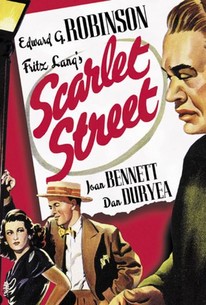 Movie Info
In this powerful film noir, a lonely cashier who is an amateur painter lets a beautiful woman believe that he is a wealthy artist. She uses him badly, pretending that his paintings are her creations. But when he finds her in the arms of her con-man lover, violence erupts.
Critic Reviews for Scarlet Street
Audience Reviews for Scarlet Street
½
Eddie G., this time as a schmuck living a life of quiet desperation until he meets the girl of his dreams (Joan Bennett), only she isn't. She's in love with the man of her dreams (Dan Duryea), only he isn't. It's a movie, only it isn't, it's like real life ... or noir. Fritz Lang with a work that'll make you uncomfortably nervous as the only one who gets what they want onscreen is the least deserving. Yikes.
Kevin M. Williams
Super Reviewer
½
The plot is certainly fascinating, but the film does suffer from some over acting. The dark twist at the end perhaps could have been handled better. Overall an admirable work of film noir.
Matthew Samuel Mirliani
Super Reviewer
Never have I encountered a film that involves a painter, where I actually cared so much about what happened to him. I felt terrible every time he was lured into another trap. This film revolves around the life of a cashier as he paints for fun on the side. His dream is to eventually sell his paintings, but can never find anyone to purchase them. As this married man becomes emotionally involved in another woman, she lies in order to steal the paintings to sell for herself. He finds out and actually thanks her. He falls into every trap known to man, and in the end, you will truly feel sympathy for his actions. This beautiful "film noir" definitely deserves a ranking among the top of it's kind. With great acting, truly emotional storytelling, amazing transitions and shots, "Scarlet Street" (although very slow moving and dated) is a brilliant example of the classical paradigm. I absolutely loved this film!
Scarlet Street Quotes
There are no approved quotes yet for this movie.