Scary Movie 3
(2003)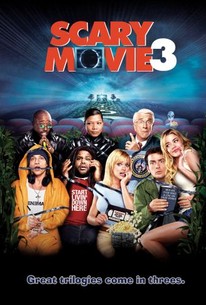 Movie Info
While star Anna Faris returns for the third film in the Scary Movie series, the power behind the camera has shifted from the Wayans brothers to one of the Zucker brothers. The Zucker in question is David Zucker, and he's brought along his partner in movie-parody crime, Leslie Nielsen. This time around, aim is taken at such horror blockbusters as Signs and The Ring, while films of other genres, including Independence Day, 8 Mile, and The Matrix, are also lampooned. The plot finds Cindy (Faris) trying to help the president (Nielsen) thwart an alien attack while also facing crop circles and a mysterious video tape. In the spirit of the two Matrix sequels, Scary Movie 3 was shot back-to-back with Scary Movie 4. Queen Latifah, Charlie Sheen, and Eddie Griffin also star. ~ Matthew Tobey, Rovi
Critic Reviews for Scary Movie 3
Audience Reviews for Scary Movie 3
So much better than the second but in no way as good at the first, the jokes are a lot more original with several funny moments especially with the boy. Leslie Nielsen was a brilliant add to the series.
Sophie Burgess
Super Reviewer
Scary Movie 3 is the third uninspired entry of the Scary Movie franchise. With this third film, the filmmakers have clearly run out of ideas, and wrote this horrid mess of a "comedy". This film is unfunny, stupid and above all, a total waste of time. This has some awful jokes, bad acting, and the failed attempt at "humor" feels forced, unnatural and strained. The actors themselves seemed bored, and not involved in the film. How can they? This third entry plainly sucks. The gags are very bad, and the film tries too hard at being an effective parody, but it's not. This film is really the start at where parody films started being very bad. I found the film to be very stupid, and awful. I hated this third film, and considering I liked the first two, I was very disappointed in what I saw in this film. Spoof films aren't funny anymore, and Scary Movie 3 and 4 along with Date Movie, Epic Movie, Meet the Spartans proves it. Scary Movie 3 is a disappointing and very bad film that you're not missing out on. Watch the first two Scary Movie films, as they do provide a few laughs, but skip on this one and the fourth film. This film is a painful attempt at comedy, and doesn't do anything interesting on-screen. Skip it; you'll be glad you did.
Scary Movie 3 is a hilarious film and is a good comedy, but the problem is that it just feels that now they are trying a little TOO hard to be stupid. The storyline is funny, and a great spoof. The cast is ok, the little boy and Charlie Sheen were hilarious, but Anna Farris is getting old. The jokes are great, but when I laughed I felt kind of stupid for laughing, is that wrong? Oh well, if you want a good spoof, watch this, if you actually wanna see a great spoof watch the first one.
Jim Careter
Super Reviewer
Scary Movie 3 Quotes
| | |
| --- | --- |
| Aunt SahNeequa: | You choose the wrong tv to come out of! |
| | |
| --- | --- |
| Cindy: | That looks like a- |
| Aunt SahNeequa: | A cigarette! |
| Cindy: | I was gonna say an lighthouse |
| | |
| --- | --- |
| George: | I have a dream. |
| Tom: | What is your dream? |
| George: | To have a dream. |
| | |
| --- | --- |
| Mahalik: | this morning she woke up dead! |
| Mahalik: | This morning she woke up dead! |