Scary Movie 4
(2006)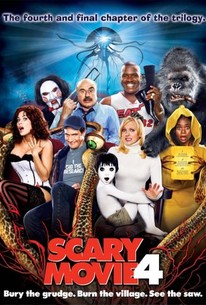 Movie Info
What do you get when you mix fearless comedic genius with the latest box-office blockbusters? You guessed it. On April 14th, the Scary Movie gang is back with the most hilarious and irreverent installment yet! "Scary Movie 4" is set to invade a theatre near you with outrageous send-ups of "War of the Worlds," "The Grudge," "The Village," "Saw" and "Saw II," "Million Dollar Baby" and much more. Legendary comedy director David Zucker and producer Bob Weiss reunite to take aim at some of the best fright films, the latest box office hits, music, current events, pop culture, and your favorite celebrities. Anna Faris and Regina Hall are back as the loveable, dim-witted Cindy Campbell and her self-serving, sex-crazed pal, Brenda, respectively -- joined this time around by Craig Bierko, as the cute-but-utterly clueless Tom Ryan. Together, they battle to save the world from a ruthless alien invasion. And, in true Scary Movie tradition, the outrageous celebrity cameos are non-stop. In "Scary Movie 4," nothing - and we mean NOTHING -- is off limits!
News & Interviews for Scary Movie 4
Critic Reviews for Scary Movie 4
Audience Reviews for Scary Movie 4
War of the Worlds is one of my favourite movies so I liked this one quite a lot. They did it in a really good way adding more jokes into it. The characters are a bit stale now though. The best scene had to be with the Japanese boy when they were talking in 'Japanese' using words like Nagasaki and Honda. As a film that you're not meant to take seriously, it's brilliant.
Sophie Burgess
Super Reviewer
The Scary Movie franchise, at this point is truly scraping the bottom of the barrel of ideas. This film is not funny whatsoever. I felt like this was a great waste of time. The film uses gross out humor that I found to be in very poor taste, along with popular culture references that were supposed to be "funny", but that failed miserably. What you have here is one of the many spoof films that fails to deliver something actually funny. Scary Movie 4 is along with the other recent spoof films, a bunch of films that fail to deliver anything funny for the viewer. Scary Movie 4 should've never been made in the first place, and is one of the worst spoof films that I have seen. This film is much uninspired and the filmmakers are quite lazy when it comes to delivering something funny. The think popular culture references are funny, well I didn't think so. I felt like this was one of the worst comedies that I've seen, and there was absolutely nothing good going for it whatsoever. This film misses the mark i9n delivering something funny to an audience. Really shitty reviews should be a clue to film studios that their film really sucks. In the case of the Scary Movie franchise, they should've gotten a clue after the first two. This film is a train wreck of a film that has no redeeming qualities whatsoever.
Scary Movie 4 was a pathetic film. The storyline never matters in these movies, but this was not a good spoof, and mostly because they are just tryig too hard with this film, but I did have the occasional laugh. The cast is ok, Anna farris is really getting old by doing these movies, and the rest of the people are just here to be look alikes of the movies being spoofed, nothing else really. The jokes aren't really that funny, and even though I laughed at the Saw spoof, nothing else was really funny for me. Saw 4 was a pathetic excuse for a spoof movie, but its still better than the second film.
Jim Careter
Super Reviewer
Scary Movie 4 Quotes
| | |
| --- | --- |
| Cindy Campbell: | That's him! |
| Brenda Meeks: | Huh! Hes cute... |
| Brenda Meeks: | Huh! He's cute. |
| | |
| --- | --- |
| The President: | Man kind is doomed either way. But wait now I need to find out if the goose layed it's egg |
| | |
| --- | --- |
| Himself: | You are free to go |
| Himself: | You are free to go. |
| Cindy Campbell: | Annnd |
| Cindy Campbell: | Annnd... |