Scary Movie 5
(2013)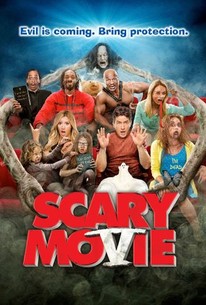 Movie Info
The latest installment of the SCARY MOVIE franchise includes send ups of PARANORMAL ACTIVITY, MAMA, SINISTER, THE EVIL DEAD, INCEPTION, BLACK SWAN and pop culture featuring Ashley Tisdale, Charlie Sheen, Lindsay Lohan, Snoop Dogg, Katt Williams, Molly Shannon, Terry Crews, Simon Rex, Jerry O'Connell, Sarah Hyland, Katrina Bowden, Tyler Posey, Shad Moss aka Bow Wow, Kate Walsh, Heather Locklear, Mac Miller and Mike Tyson. SCARY MOVIE V is directed by Malcolm Lee who teamed up and worked side by side with legendary comedy director David Zucker (AIRPLANE, THE NAKED GUN franchises). Zucker wrote and directed SCARY MOVIE 3 and 4 and also co-wrote and produced SCARY MOVIE V. The SCARY MOVIE franchise, which lampoons the greatest in horror and genre fare, has grossed over $800 million worldwide. (c) Weinstein
Critic Reviews for Scary Movie 5
Audience Reviews for Scary Movie 5
Do you really wanna know how bad this movie is? "A Haunted Mansion" is comedy gold when compared to this (and that's saying something, because A Haunted Mansion was awful as well). I kid you not; this movie was really that bad. A Haunted Mansion managed to get a handful of laughs out of me (which I still feel guilty for); this movie didn't even crack a smirk on me. Do you really need to know more? We could have rented "Epic" or "Pain & Gain" (I definitely would have picked Epic), but since the majority of the kids picked this it's what we had to watch (also, my little brother liked this movie, that's all you need to know seeing that he's the guy who also likes Epic Movie & Grown Ups). I sat through every agonizing minute of this film, & I asked myself "WHY?!" with every random "gag" that was thrown at us (which was every 15-25 seconds) & not once did I even show the slightest hint of a smirk. It was painful to sit through. How painful? Epic Movie painful! I can't even properly think how I can write down what I went through sitting through this crap! It's just BAD. BAD! I seriously didn't think that a Scary Movie movie could have stooped down to the level of a Seltzer & Friedberg movie. There are numerous pacing problems, terrible acting (even for what it was going for), jokes that are nothing more than pop culture gags that were clearly done in reference from Seltzer & Friedberg films, tons of inconsistencies, lack of logic or even brains, & some of the most awful casting choices I have ever seen (Ashley Tisdale? Seriously?) Also, RT, ask your editors to check the damn page here, the cast listed has actors that were never present throughout any of the movie.
Frisby 2007
Super Reviewer
Scary Movie 5 - This may be one of the worst spoof movies I have ever seen! It takes everything that was ever good or just decent about the other "Scary Movie" films and breaks the back of the franchise. It is dead dead dead. Hardly a laugh comes from this film at all. I will say that it is more clever than the hideous "30 Nights of Paranormal Activity with the Devil Inside the Girl with the Dragon Tattoo" that came out earlier this year and attempted to make you laugh. I've seen worse films, but this is one of the worst this year by far. It's unfunny, crude, rude, and completely ridiculous. "Scary Movie 5" is not quite as bad as I think the second film is, but there is nothing good about this film besides a few gags here and there that made me chuckle and save me from killing myself out of boredom. This is a terrible film!
½
Evil is coming. Bring protection. Very weak comedy movie! The worst of the Scary Movie franchise. The era of spoof and parody is dead. Let me start off by saying that I knew this film was going to be horrible from the start. I had read reviews and knew it was bad, but being so infatuated with film and theater, I actually wanted to see the movie to diagnose exactly what made it so horrible. Admittedly, there were some very rare parts of the movie that had a somewhat witty humor to it, but it was only once or twice, and weak at that. The rest of the stupid slapstick humor was just so lame and dragging. Overall, there was almost no sophisticated or witty humor, horrid acting, and it was all just plain bad. So yes, the reviews are correct, it was horrible. Don't waste your time! Happily-married couple Dan and Jody begin to notice some bizarre activity once they bring their newborn baby Aiden home from the hospital. But when the chaos expands into Jody's job as a ballet dancer and Dan's career as an Ape researcher, they realize their family is being stalked by a nefarious demon. Together, with the advice of certified experts and the aid of numerous cameras, they must figure out how to get rid of it before it's too late.
Scary Movie 5 Quotes
| | |
| --- | --- |
| Tom: | ill pay you to get me out of this movie |
| Tom: | I'll pay you to get me out of this movie. |
| | |
| --- | --- |
| Tom: | I've come back from worse than this! |
| | |
| --- | --- |
| Jody: | I feel like there's something in this house. |
| | |
| --- | --- |
| Jody: | Who's the cutuest baby in the world? Little baby Aidan. |