Scenes from a Marriage (Scener ur ett äktenskap)
(1974)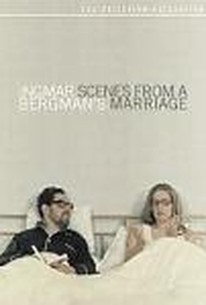 Scenes from a Marriage (Scener ur ett äktenskap) Photos
Movie Info
Marianne and Johan always seemed like the perfect couple. But when Johan suddenly leaves Marianne for another woman, they are forced to confront the disintegration of their marriage.
News & Interviews for Scenes from a Marriage (Scener ur ett äktenskap)
Critic Reviews for Scenes from a Marriage (Scener ur ett äktenskap)
Audience Reviews for Scenes from a Marriage (Scener ur ett äktenskap)
Possibly one of the most accurate films about the beginnings of the end of marraige and the circumstances that bring it about. You can imagine similar stories unfolding among couples that reach a breaking point in their relationships. One of Bergman's finest.
John Ballantine
Super Reviewer
This film almost tops Closer as one of the meanest films ever. Some of the dialogue and actions are so emotionally damaging that it defies description. Josephson and Ullmann are truly amazing, and it occasionally seems like there wasn't even a script - that we're just looking in on these people's lives. However, I have two issues. First, it is clear to me from the beginning that this marriage is in trouble, and the fact that the characters are so naively oblivious almost makes us lose respect for them. Second, Bergman's quick zooms were annoying and unnecessary, and there were moments when the film was almost too claustrophobic. On a personal note, it was scary to see a true asshole use an argument that I used in real life. It doesn't necessarily mean the argument was wrong, but it made me wonder if my assholishness is beyond my comfort level.
Jim Hunter
Super Reviewer
½
Rarely can there have been a wordier, more intense film than Ingmar Bergman's 'Scenes from a Marriage': over three hours of near-continuous dialogue, over 90% of which is shared by just two (of a total of six) characters in what are effectively just six lengthy scenes. Set over a number of years, they observe a couple's changing relationship, and in particular the gradual and ambiguous transfer of power from the husband to the wife. The characters fit a Scandanavian archetype, reserved rather than fiery, and intellectual to boot: of more modern films, only David Mamet's 'Oleanna' comes to mind as remotely similar, although the dialogue in that film is more forced and contrived than that in this one, which closer resembles that of Kieslowski, although the latter's films were of course much less wordy. If it sounds dreary, the surprising thing is how riveting it is: superb, economical acting, and the splendid script, keep you focused, even though not a lot (in the conventional sense) actually happens. And while you'll watch more accessible movies, it's certainly fair to say that you'll rarely see a film this old that feels less dated. It's not quite entertainment as usually defined; but it's certainly interesting.
Cassandra Maples
Super Reviewer
Scenes from a Marriage (Scener ur ett äktenskap) Quotes
There are no approved quotes yet for this movie.