Schindler's List
(1993)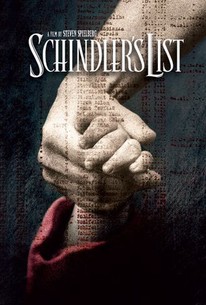 TOMATOMETER
AUDIENCE SCORE
Critic Consensus: Schindler's List blends the abject horror of the Holocaust with Steven Spielberg's signature tender humanism to create the director's dramatic masterpiece.
Movie Info
Based on a true story, Steven Spielberg's Schindler's List stars Liam Neeson as Oskar Schindler, a German businessman in Poland who sees an opportunity to make money from the Nazis' rise to power. He starts a company to make cookware and utensils, using flattery and bribes to win military contracts, and brings in accountant and financier Itzhak Stern (Ben Kingsley) to help run the factory. By staffing his plant with Jews who've been herded into Krakow's ghetto by Nazi troops, Schindler has a dependable unpaid labor force. For Stern, a job in a war-related plant could mean survival for himself and the other Jews working for Schindler. However, in 1942, all of Krakow's Jews are assigned to the Plaszow Forced Labor Camp, overseen by Commandant Amon Goeth (Ralph Fiennes), an embittered alcoholic who occasionally shoots prisoners from his balcony. Schindler arranges to continue using Polish Jews in his plant, but, as he sees what is happening to his employees, he begins to develop a conscience. He realizes that his factory (now refitted to manufacture ammunition) is the only thing preventing his staff from being shipped to the death camps. Soon Schindler demands more workers and starts bribing Nazi leaders to keep Jews on his employee lists and out of the camps. By the time Germany falls to the allies, Schindler has lost his entire fortune -- and saved 1,100 people from likely death. Schindler's List was nominated for 12 Academy Awards and won seven, including Best Picture and a long-coveted Best Director for Spielberg, and it quickly gained praise as one of the finest American movies about the Holocaust. ~ Mark Deming, Rovi
News & Interviews for Schindler's List
Critic Reviews for Schindler's List
Audience Reviews for Schindler's List
½
Spielberg's direction is wonderful as he recreates the abject horrors of the Holocaust in this profoundly sad and disturbing drama made with so much love and dedication by everyone involved, with a narrative that is so fascinating due to the complexity of Schindler's character.
Carlos Magalhães
Super Reviewer
Steven Spielberg's adaptation of Thomas Keneally's novel based on the role of Oscar Schindler during the holocaust was very much his cinematic coming of age. Many have criticized Schindler as a profiteer and coward for not taking up arms against the Nazis. He was not a soldier and if he had done, at best he may have killed a handful of inconsequential German troops before dying a "hero's death". And every man, woman and child who worked in his factory would have been murdered. Spielberg does not shy away from the fact that he was not a saint, showing him to be a womaniser and hedonistic opportunist but when he was faced with the human tragedy of his environment he acted; a reaction that was all too rare at the time. In fact Spielberg draws parallels between Schindler and Goeth, his counterpart in the military workcamp but whereas the industrialist was a man of compassion, Goeth was the embodiment of the Nazi party; a cold, cruel and ruthless man who acted without conscience or mercy. It's true that the film is guilty of button pushing, but it is the manipulation of a master story teller; the highlighting of the girl in the red coat in particular is obviously Spielberg's way around the old adage of "one death is a tradegy, a million deaths is a statistic." Putting a human face on an individual tragedy is the only way it is possible to process horror on such an unimaginable scale. Beautifully shot and expertly played, Schindler's List is a remarkable and moving film that will no doubt be part of a larger monument to an atrocity that must be remembered to ensure that it is never, ever repeated.
No film I have ever seen manages to convey stronger emotions than "Schindler's List".
Sam Barnett
Super Reviewer
Schindler's List Quotes
| | |
| --- | --- |
| Oskar Schindler: | I know you have received orders from our commandant, which he has received from his superiors, to dispose of the population of this camp. Now would be the time to do it. Here they are; they're all here. This is your opportunity. Or, you could leave, and return to your families as men instead of murderers. [the guards gradually exit; he addresses the workers again] In memory of the countless victims among your people, I ask us to observe three minutes of silence. |
| | |
| --- | --- |
| Oskar Schindler: | The unconditional surrender of Germany has just been announced. At midnight tonight, the war is over. Tomorrow you'll begin the process of looking for survivors of your families. In most cases... you won't find them. After six long years of murder, victims are being mourned throughout the world. We've survived. Many of you have come up to me and thanked me. Thank yourselves. Thank your fearless Stern, and others among you who worried about you and faced death at every moment. I am a member of the Nazi Party. I'm a munitions manufacturer. I'm a profiteer of slave labor. I am... a criminal. At midnight, you'll be free and I'll be hunted. I shall remain with you until five minutes after midnight, after which time - and I hope you'll forgive me - I have to flee. [He addresses the factory's SS guards] |
| | |
| --- | --- |
| Amon Goeth: | this is cruel oscar . you are giving them hope |
| Amon Goeth: | You're giving them hope. You shouldn't do that. *That's* cruel! |
| | |
| --- | --- |
| Itzhak Stern: | Herr Direktor, Don't Let Things Fall Apart, I Worked Too Hard. |
| Itzhak Stern: | Herr Direktor, don't let the things fall apart. I worked too hard. |