Schizopolis
(1996)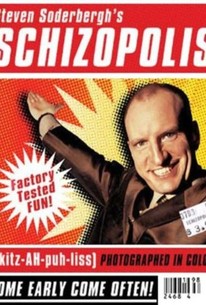 Movie Info
This film is a satire about the lack of real communication found in contemporary high-tech society.With no real narrative, beginning, or ending credits, it centers on Munson, his wife, and a bizarre orange-clad goggle-wearing exterminator named Elmo.
Critic Reviews for Schizopolis
Audience Reviews for Schizopolis
½
Admiring how bad this film is intended to be, is easy, but accepting the circumstances under which is was made is kind of upsetting. Director Steven Soderbergh had created a film that is truly one of the worst films in cinema, but he is also someone who hates Hollywood and loves the independent Film Industry. It has been very difficult for him to get his films made in the past, even though his films have won Academy Awards in the past. Not one part of this film makes any sense, and that was his intention to give a "F#@K YOU" to the film board. I admire his attempt, but nobody can even comprehend what even happens in this film and every filmmaking aspect is absolutely terrible. This is easily one of the worst films I've ever seen, but because of the circumstances, I'll give it a little credit.
½
Soderburgh's comic commentary on the vapidness of ordinary American life plays like a Youtube vid made by aspiring actors hoping for that one big break. Only for his fans and those considering imitation.
Kevin M. Williams
Super Reviewer
Basically a series of absurd sketches, like a feature film made by a TV comedy troupe, with a thin organizing plot thread involving a man straining to write a big speech for a cultlike figure modeled on L. Ron Hubbard. Full of ideas that are usually more clever than funny---e.g., the running joke satirizing lack of communication between men and women by having the characters speak jibberish, generic phrases, or different languages---but it should prove interesting and inventive enough to keep smart people watching to the end. Director Steven Soderbergh comes onscreen before the story starts and tells us, "In the event that you find certain sequences or ideas confusing, please bear in mind that this is your fault, not ours. You will need to see the picture again and again until you understand everything." So, you've been warned.
Schizopolis Quotes
There are no approved quotes yet for this movie.