Schlock! The Secret History of American Movies
(2001)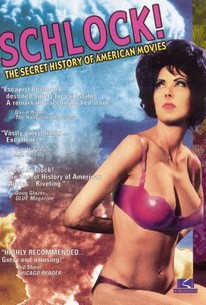 AUDIENCE SCORE
Critic Consensus: No consensus yet.
Movie Info
Pauline Kael once wrote that since movies were so rarely great art, if one weren't interested in great trash, there wasn't much reason to pay attention to them, and one could reasonably argue that few periods brought us more top-quality cinematic trash than the 1950s and '60s. With drive-ins and grindhouses across the United States making room for low-budget exploitation films of all stripes (such as horror, science fiction, teen exploitation, biker films, beach pictures, nudies, and much more) as the major studios were focusing their attention on big-budget blockbusters and television, this was a boom time for inspired trash, and Schlock! The Secret History of American Movies takes a look at the low-budget wonders of the 1950s and '60s, as well as the men and women who made them and the social and psychological subtexts lurking behind many of these movies. Schlock! includes interviews with Roger Corman, Peter Bogdanovich, David F. Friedman, Doris Wishman, Samuel Z. Arkoff, Dick Miller, Vampira, and more.
Critic Reviews for Schlock! The Secret History of American Movies
All Critics (4) | Fresh (4) | Rotten (0) | DVD (3)
Some of the interviews go on a bit too long, the cutting is off in a spot or two, and repetition occurs briefly, but the education value is high.
Ray Greene has put together a well-documented record of schlock films with mainly interviews of those responsible for its success.
Audience Reviews for Schlock! The Secret History of American Movies
½
You can tell the filmmaker here is well informed and gets great interviews with the people he is actually talking about, so you have a great perspective on the time. On problem is that this film will appeal to fans of this genre and as a result won't deliver too much new information that the viewer won't already be aware of. Of course, you get the perspective of the filmmakers who made the films, which is great. He also links the trends of exploitation cinema to American history which is a great context for the documentary.
Patrick Dolan
Super Reviewer
Schlock! The Secret History of American Movies Quotes
There are no approved quotes yet for this movie.