School Daze
(1988)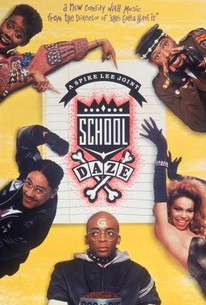 TOMATOMETER
AUDIENCE SCORE
Critic Consensus: School Daze is undeniably messy, but thought-provoking themes, strong performances, and Spike Lee's ingratiating energy help tie it all together.
Movie Info
Much of School Daze is based on director Spike Lee's experiences while a student at Morehouse College in Atlanta. Laurence Fishburne plays what amounts to Lee's alter ego: a serious, self-involved student who tilts at such windmills as an insensitive administration and a deeply entrenched, social-climbing fraternity/sorority system. An inordinate amount of tension exists between the light- and dark-skinned African-American students; the lighter blacks are nicknamed "Wannabes," a reference to their emulation of upper-class white values, while the darker ones are labelled "Jigaboos." Characteristically, Spike Lee reserves a meaty supporting role for himself. He plays Half-Pint, a mixed-up freshman who willingly endures the basest of humiliations in order to be accepted by the "Wannabe" fraternity.
Critic Reviews for School Daze
Audience Reviews for School Daze
½
Some truly funny scenes and pretty entertaining song-and-dance numbers. But just too slow -- it was about half an hour too long.
Letitia Lew
Super Reviewer
½
This is producer/writer/director/co-star Spike Lee's sophmore effort: a musical dramedy set at a HBCU (historically black college or university) over the course of homecoming weekend. What I found so engaging about the film is that it never once shows the perspective of white people, and instead looks at various issues (primarily black on black discrimination) solely from various and well rounded African American povs. The film is somewhat dated with specific issues, but the overall messages are still powerful and relevant. I like musicals, but I don't know if that was really a good way to present this material. That, and only one of the numbers really grabbed me. I will say that the stomp competition sequence was well choreographed and executed though. The performances are good, and you can see Lee's innovations and techniques getting better and better, but the film is a little weak structurally and leaves a few too many loose ends. However, it is entertaining, and makes some important contributions cinematically (but most culturally and socially), so I say give it a chance. It's not too bad.
Chris Weber
Super Reviewer
½
I think the main problem with this movie is that it doesn't have a wide enough audience. It's audience is pretty much just African Americans who went to college and were in a fraternity around the time the movie takes place. It's very specific and hard to relate to. The actors were very good, but that's all I liked about this movie. The story goes nowhere, and the song and dance numbers annoy me. Overall, I wouldn't recommend it unless you can relate to it.
School Daze Quotes
There are no approved quotes yet for this movie.