School for Scoundrels
(2006)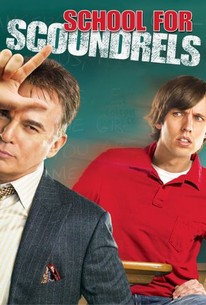 TOMATOMETER
AUDIENCE SCORE
Critic Consensus: School for Scoundrels squanders its talented cast with a formulaic, unfocused attempt at a romantic comedy that's neither romantic nor funny.
School for Scoundrels Photos
Movie Info
Roger is a beleaguered New York City meter maid who is plagued by anxiety and low self-esteem. In order to overcome his feelings of inadequacy, Roger enrolls in a top-secret confidence-building class taught by the suavely underhanded Dr. P. Aided by his assistant, Lesher, Dr. P uses unorthodox, often dangerous methods, but he guarantees results: Employ his techniques and you will unleash your inner lion. Surrounded by a band of misfit classmates -- Walsh, who's dying to move out of mother's basement; Diego, a punching bag for his hen-pecker of a wife; and Eli, a shy guy just looking for female companionship -- Roger's confidence grows and he makes his way to the head of the class, even finding the courage to ask out his longtime crush, Amanda. But Roger quickly discovers that star students have a way of catapulting Dr. P's competitive side into high gear. Soon enough, the teacher sets out to infiltrate and destroy Roger's personal and professional life. Nothing is off limits for Dr. P, not even the object of Roger's affection. In order to show Amanda Dr. P's true colors, Roger must rally his new friends and find a way to beat the master at his own game.
News & Interviews for School for Scoundrels
Critic Reviews for School for Scoundrels
Audience Reviews for School for Scoundrels
½
A interesting cast, but without a good screenplay the result just could be an unfunny romantic comedy. Rotten.
Lucas Martins
Super Reviewer
½
Todd Philips is pretty hit and miss as a director, he scored big with The Hangover, however with this remake, and he fails to bring something really funny to the screen. With a cast that comprises Billy Bob Thornton and Jon Heder, you know what to expect. This film had bland, predictable jokes and it just ended up not being interesting. The film is poorly acted with a poor script, and everything is just lazy. Todd Phillips is a decent film maker, and he is able to make something funny, however with this film, he just doesn't have that energy to create something good for the viewer. Thornton's comedic delivery is really predictable, and it makes the film quite boring. In every comedic role he's done, he's played the same person. That goes with Jon Heder as well. I just think that both actors are one trick ponies in terms of comedy. Thornton was great in Bad Santa, but he basically used that character for Mr. Woodcock and his character in this one. The film, as far remakes are concerned, just doesn't cut it, and is one of those films that isn't worth your time. I haven't seen the original yet, so I can't compare, but this film just isn't good. School for Scoundrels isn't one of Phillips' best directorial efforts and along with The Hangover Part II, is one of his worst films. If you're looking for something really funny, you won't find it here. This film was just a big disappointment, one that could have been much better, but was pretty bad in the end. This isn't worth your time.
½
Yep, I just can't get enough of Billy-Bob. The story was the completely reverse of what I thought it was going to be, which turned out to be a funnier concept. Billy-Bob does sarcastically irritating exceptionally well. The film kind of reminded me of Anger Management , but with more of a twist.
Lady D'arbanville
Super Reviewer
School for Scoundrels Quotes
There are no approved quotes yet for this movie.