School of Rock
(2003)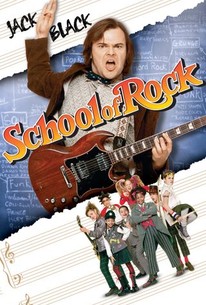 Movie Info
The world's least-employable heavy metal guitarist is entrusted with the minds of upstate New York's best and brightest in this fish-out-of-water comedy. Jack Black plays Dewey Finn, axe-bearer for a fitfully successful bar band determined to win a regional battle-of-the-bands competition. There's only one thing standing in their way: the self-indulgent solos and crowd-diving antics of their "embarrassing" lead guitarist. When his band votes him out in favor of a would-be rock god, Dewey has to make the rent somehow, and after intercepting a call for his substitute-teacher roomie Ned (Mike White), the pot-bellied slacker finds himself in front of a class of elite elementary school students. At a loss for a lesson plan, Dewey takes offense at the pre-teen prodigies' staid musical regimen and makes it his goal to preach them the gospel of The Who, Led Zeppelin, and AC/DC -- with the ulterior motive of getting them to compete against his former band for a cash prize. But no matter how willing his pupils, Dewey runs up against the consternation of the school's stern headmistress Principal Mullins (Joan Cusack), the battle-of-the-bands' promoter (Frank Whaley), and not least, his identity-deprived roomie Ned. ~ Michael Hastings, Rovi
Critic Reviews for School of Rock
Audience Reviews for School of Rock
½
Great humor and rockin' story (had to do it, I'm sorry). Jack Black usually annoys me but that is not the case here. I feel like this was the film he was born to star in. "School of Rock" is a near perfect comedy and should be watched by anyone who loves great humor and/or rock music. I also love Joan Cusack in this.
Eric Shankle
Super Reviewer
Richard Linklater's cult hard-rock comedy hits the right notes and plays louder than anything i've ever heard. Jack Black was the perfect symbolism of old-school rock 'n' roll to shed into the new age of musicianship. The dialogue was brilliant, songs were strong and script was fantastic. Encore! 5/5
Eugene Bernabe
Super Reviewer
Dewey Finn: Dude, I service society by rocking, OK? I'm out there on the front lines liberating people with my music!  "We don't need no education." School of Rock has been another go to movie for me for the last 7 or 8 years. For me, this is an easy winner because I am a Jack Black fan and because I love the music their playing. Black is a musician that can hold his own and the kids in the movie are great at their respected instrument. The film is funny, well-written by Mike White, and directed with surprising style by Richard Linklater. Like I said, Black is in the lead and he gives probably the best comedic performance of his life as Dewey Finn. School of Rock follows the misadventures of Dewey. He's a loser who is trying to make it big in the music industry. His band plays small bars and he lives with a friend and his friends girlfriend, mooching of them for rent. Dewey's friend at the request of his girlfriend tells him if he doesn't come up with rent, they are going to kick him out. More bad news comes in the form of Dewey getting kicked out of his band. He tries to rebound with a new band, but finding people isn't easy. When he takes a substitute teaching job, posing as his friend teacher, he meets a group of kids that can rock, and tries to use them to win the Battle of the Bands. This is a different type of movie for Linklater. I guess if you examine his film career, this would tie in most closely with Bad News Bears; except that School of Rock is much, much better. It also rings with great music much like his comedic stoner masterpiece Dazed and Confused did.  School of Rock is just plain fun. It's hard not to have a good time watching Jack Black totally embrace a role like this. This is the Jack Black character. He is at his best when he plays himself, and Dewey Finn is just less profane Jack Black from Tenacious D. So seeing him here is just as much fun as watching him in Tenacious D in: The Pick of Destiny. A great, family friendly, music comedy from a great director and a cast of good musicians. The songs are catchy, the jokes funny, and the story clever. Yeah, it follows a pretty basic formula for its success, but you can't sent the luring power of the pit stops White take with his writing. The lessons in class, the lunchroom conversations, and just letting Black perform.
Melvin White
Super Reviewer
School of Rock Quotes
| | |
| --- | --- |
| Ned Schneebly: | I don't know, why don't you sell one of your guitars or something? |
| Dewey Finn: | What? Would you tell Picasso to sell his guitars? |
| | |
| --- | --- |
| Dewey Finn: | What? Would you tell Picasso to sell his guitars? |
| | |
| --- | --- |
| Dewey Finn: | What do you like to do? |
| Freddy: | I don't know, burn stuff. |
| | |
| --- | --- |
| Billy: | You're tacky and I hate you. |