Scooby-Doo 2: Monsters Unleashed
(2004)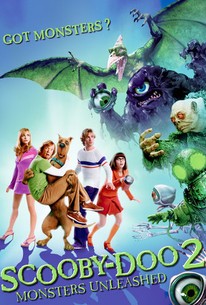 Scooby-Doo 2: Monsters Unleashed Videos
Scooby-Doo 2: Monsters Unleashed Photos
Movie Info
Scooby and the gang lose their cool--and their stellar reputation--when an anonymous masked villain wreaks mayhem on the city of Coolsville with a monster machine that re-creates classic Mystery Inc. foes like: The Pterodactyl Ghost, The Black Knight and The 10,000 Volt Ghost. Under pressure from relentless reporter Heather Jasper-Howe and the terrified citizens of Coolsville, the gang launches an investigation into the mysterious monster outbreak that leaves Shaggy and Scooby questioning their roles in Mystery Inc. The ever-ravenous duo, determined to prove they're great detectives, don a series of far-out disguises in their search for clues. Meanwhile, brainy Velma becomes smitten with a key suspect, Coolsonian Museum curator Patrick Wisely, as macho leader Fred and image-conscious Daphne attempt to determine the identity of the Evil Masked Figure who is unleashing the monsters in an attempt to take over Coolsville.
News & Interviews for Scooby-Doo 2: Monsters Unleashed
Critic Reviews for Scooby-Doo 2: Monsters Unleashed
Audience Reviews for Scooby-Doo 2: Monsters Unleashed
now this movie is a masterpiece when it comes to sequels, acting, comedy, and effects, as with all movies to me and ive said this multiple times, the more villains the better the movie is mainly because the villains are the best parts of any movie and when there are multiple villains it just multiplies the awesomeness and comedy in the film
Michael Edwards
Super Reviewer
½
Pretty much the same thing here with more nasty looking CGI and even more terrible looking general effects, sets, stunts and obvious stunt doubles. The cast perform a little better here, more of a natural flow with this one, they gel better and actually come across as 'Mystery Inc.' with more success than the previous film. There is still a heavy load of very childish toilet humour going on throughout unsurprisingly. This still isn't required as it wasn't anywhere to be seen in the original cartoon so I have no idea why the powers that be seem to think its necessary. On the plus side its nice to see a few ghosts and ghouls from the original cartoon used for the plot, always did like that deep sea diver ghost. This is the films only plus point, despite relying heavily on CGI as per usual it was nice to see these old spirits. There were some live action costumes used combined with CGI which didn't come off too badly admittedly. This did give a nice light-hearted ghoulish 'Casper' vibe which saves the film from total ruination. The quality does vary a lot though, some ghosts look quite eerie and well realised, whilst others looks down right puerile and highly fake. So the inclusion of a nice array of phantoms and spooks slightly elevates this above the first film but its still quite awful. Not as many cameos but still plenty of unnecessary pop culture and some God awful music tracks. Again, stick to the original cartoon for all you're haunting needs.
Phil Hubbs
Super Reviewer
Matt Goodman
Super Reviewer
Scooby-Doo 2: Monsters Unleashed Quotes
| | |
| --- | --- |
| Old Man Wickles: | Darn bushes yowling at me again... |
| | |
| --- | --- |
| Fred Jones: | You can't fool me, your just Afried to so your sensitive side. |
| Black Knight: | Oh, you touched my little child... And he's really MAD! |
| | |
| --- | --- |
| Scooby Brainiac [Voice]: | Barking at things, chasing cars! Eating my own vomit! Oh, those were glories times! |
| | |
| --- | --- |
| Shaggy: | (picks up page, That was printed) "All clues... At lass, what are these strange marking?" |
| Shaggy: | [picks up page, that was printed] All clues... At lass, what are these strange marking? |
| Fred Jones: | (turns page around) "words" |
| Fred Jones: | [turns page around] Words. |
| Shaggy: | (amazed) "Ahhh, words" |
| Shaggy: | [amazed] Ahhh, words. |