Scooby-Doo! Where's My Mummy?
(2005)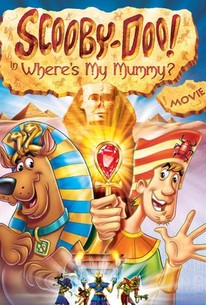 AUDIENCE SCORE
Critic Consensus: No consensus yet.
Scooby-Doo! Where's My Mummy? Photos
Movie Info
When sleuthing archaeologist Velma travels to Egypt to attend a ceremony celebrating the unveiling of the newly restored Sphinx, the discovery of a hidden tomb threatens to unleash an ancient curse in this frightful feature-length mystery featuring everyone's favorite dog detective - Scooby-Doo. Upon discovering the ancient tomb of Eqyptian queen Cleopatra, Scooby and the gang find an ominous warning stating that all who enter will be turned to stone. As the mystery of the ancient tomb deepens, an army of the dead emerges to take revenge on those who would violate the eternal slumber of their revered ruler.
Critic Reviews for Scooby-Doo! Where's My Mummy?
There are no critic reviews yet for Scooby-Doo! Where's My Mummy?. Keep checking Rotten Tomatoes for updates!
Audience Reviews for Scooby-Doo! Where's My Mummy?
½
The baddies in the movie are Dr. Amelia von Butch and her minions witch look very much like slightly retextured "Rescue Heroes" In fact of the look of the animation is very much like the "Rescue Heroes. Big purposeful sweep shots to play up on the 3D modeled imagery. Personally it looks a little dated and trades speed of development for hand painted look. Velma's working on an archeological dig and Egypt and has a crush on another archeologist who turn out to be a prince. The rest of the crowd shows up to lend a hand on the sensitive excavation. The movie is not based on any basic history, but a cross pollination of the Mummy movies, Indiana Jones and others. I was not a big SD fan as a child but anything that keep the boys entertained while I can rest my eyes for a few minutes is 4-star in my book. 1998 Scooby-Doo On Monster Island. (1998) Beautiful Anime very scary 1999 Scooby-Doo and the Witches Ghost. (1999) More like Joosie and the pussycats 2000 Scooby-Doo and the cyber chase, (2000) Haven't sene Night of the Living Doo (2001) Haven't seen Scooby-Doo and the Legend of the Vampire (2002), OK Scooby-Doo and the Monster of Mexico (2003), Haven't seen Scooby-Doo and the Loch Ness Monster (2004), OK Aloha, Scooby-Doo! (2004), Bare midriff daphne Scooby-Doo! in Where's My Mummy? (2005), Scooby-Doo! Pirates Ahoy! (2006), good Chill Out, Scooby-Doo! (2007), haven't seen Scooby-Doo and the Goblin King (2008) very good Scooby-Doo and the Samurai Sword (2009) excellent the ending a little long.
Bill Cavros
Super Reviewer
Scooby-Doo! Where's My Mummy? Quotes
There are no approved quotes yet for this movie.