Scorched
(2003)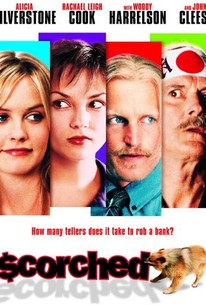 Movie Info
A handful of disgruntled bank employees decide to stage a robbery, but with no plans of doing it together, in this comedy. Sheila (Alicia Silverstone) is a teller at a small town bank who reaches her breaking point when her boyfriend, Rick Becker (Joshua Leonard), who also happens to be her boss, breaks up with her after three years of stringing her along, both emotionally and professionally. In order to get revenge against Rick, Sheila decides to rob the bank, but come the night of the heist, she discovers she wasn't the only person with similar plans that evening. Stuart (Paulo Costanzo) wants some adventure in his life, and plans to loot the bank vault to finance a gambling vacation in Las Vegas with his brother Max (David Krumholtz). And put-upon teller Jason (Woody Harrelson) wants to clear out the safety deposit box of foul-tempered local tycoon Charles Merchant (John Cleese), not knowing that Shmally (Rachael Leigh Cook), a clerk at a clothing store with a score to settle against Merchant, already has her own plans for dealing with him. Scorched was shot in 2001, but didn't play in American theaters until 2003, though it did enjoy a run in Europe during the interim.
Critic Reviews for Scorched
Audience Reviews for Scorched
Shmally: You wanna jack with the ripper?  "To break out... You gotta break in" Although not as clever as it tries to be and not as funny as it needs to be Scorched is still pretty entertaining. In the end though, it's just not enough. The cast should be great, but only one character is all that interesting and that's Rachael Leigh Cook's. Every other character was either extremely dull or extremely over the top.  This is the type of movie we get when a Tarantino wannabe think he finally has a great idea. It's pretty easy to tell throughout this movie that the written (Joe Wein) and the director(Gavin Grazer) think their material is pretty smart. In reality they fail to pull all the characters and their stories together. The movie has a few decent ideas, a few good scenes and a few good actors. But the movie ends up being a below average comedy. Rachael Leigh Cook is a reason to watch this movie though. She's a decent actress who isn't in enough movies; so whenever I come across a movie with her in it, I'll normally watch it. Woody Harrelson is completely wasted throughout the whole movie. John Cleese's character is too over the top. The movie has a lot of problems. Most of which come from the writing.
Melvin White
Super Reviewer
½
Fun in a PG13 kinda way. In other words, they got off way too easy.
Curtis Lilly
Super Reviewer
Scorched Quotes
There are no approved quotes yet for this movie.