The Scorpion King
(2002)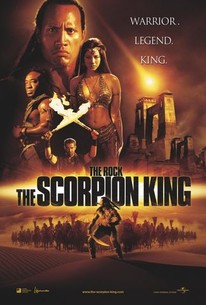 Movie Info
The Rock has his first starring role in this prequel to The Mummy films, which was developed while The Mummy Returns was still in production. The film takes place in ancient times, when a mighty swordsman, Memnon (Steven Brand, making his film debut) ruled over nearly all the known world. Memnon, a brutal tyrant, defeats his enemies in battle with the help of a beautiful sorceress, Cassandra (Kelly Hu), who can predict the future. The last of the "free tribes" form a fragile alliance to fight Memnon, and hire a trio of Akkadian assassins, led by Mathayus (pro wrestler The Rock, who made his big-screen debut as this character in The Mummy Returns), to kill the sorceress and thus remove Memnon's advantage. Balthazar (Michael Clarke Duncan of The Green Mile), the powerful leader of the Nubians, objects to hiring mercenaries, but the plan goes forward. The assassins are betrayed by Takmet (Peter Facinelli), the son of one of the tribal leaders, and Mathayus finds himself unable to kill Cassandra. Thanks to the unlikely machinations of Cassandra, and the aid of a horse thief, Arpid (Grant Heslov of True Lies), Mathayus escapes to the desert. He eventually abducts Cassandra, who explains that Memnon was holding her against her will. Mathayus thwarts Memnon's efforts to re-capture Cassandra, then uses his newfound sense of justice to convince the surviving tribal leaders to join forces again to defeat Memnon. The Scorpion King was directed by Chuck Russell. Jonathan Hales (Star Wars: Episode II - Attack of the Clones) was credited with the story, and WWF owner Vince McMahon has an executive producer credit. The film, which was shot in the U.S. (very unusual for a big action film), reportedly underwent extensive re-shoots when the first cut came in with a running time of 70 minutes. ~ Josh Ralske, Rovi
Critic Reviews for The Scorpion King
Audience Reviews for The Scorpion King
½
More hype than delivery, follow Mr. Dwayne Johnson as he unbelievably waltzes into a fullblown Hollywood movie career playing the same guy he played in the wrestling "arena". Watch as he himself cannot hide his incredulous amazement at his good fortune. In the climatic scene the villain manages to slice the Rock's shirt clean off ... this is light entertainment for the youth in your house.
Kevin M. Williams
Super Reviewer
So oddly enough this character was actually loosely based on a real Egyptian leader which does make things a little more interesting, not a franchise saver by any means but its cool to read up on it. This spin off is set 5000 years before the events of 'The Mummy' which does seem rather a long time to me. Great title, slightly dull execution, we all knew what to expect here, Johnson running around half naked killing endless enemies with no apparent fighting skills. I will be completely truthful here and say this film isn't too bad, if you squint at it its almost pretty good, the fights are solid along with the stunts, cast does the job for the type of film this is and more importantly it actually looks good without any silly cgi to spoil the broth. If you took out the historical setting you could quite easily say this was a sequel/prequel to the 'Conan' franchise really, its your basic swords n sorcery fantasy just without any monsters, its better than the recent official Conan effort. So yeah...this is not too bad, Kelly Hu looks lovely and Johnson is clearly learning the ropes showing promise.
Phil Hubbs
Super Reviewer
Well its okay, it'll suffice as a prequel because i doubt you'd get any better! Its good enough in the action front and special effects! Theres nothing to special about this movie but its fun enough!
Film Crazy
Super Reviewer
The Scorpion King Quotes
| | |
| --- | --- |
| Arpid: | So much for not getting killed. |
| | |
| --- | --- |
| Memnon: | It seems the gods favor me tonight, Akkadian. |
| | |
| --- | --- |
| The Scorpion King/Mathayus: | Catch this! |
| | |
| --- | --- |
| Balthazar: | You watch yourself, Akkadian. |
| The Scorpion King/Mathayus: | No need for concern, Miss. |
| Balthazar: | (To himself) Oh, he's going to pay for that. |
| Balthazar: | [to himself] Oh, he's going to pay for that. |