Scotland, Pa.
(2001)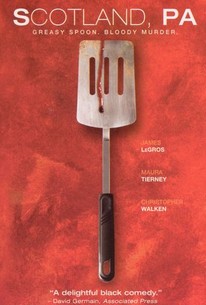 Movie Info
What happens if you take one of William Shakespeare's darkest tragedies and move it to a burger joint in the early 1970s? The answer can be found in the satiric comedy Scotland, PA, the first feature from writer and director Billy Morrissette. Mac McBeth (James LeGros) is a hard-working but unambitious doofus who toils at a hamburger stand alongside his wife Pat (Maura Tierney), who has a significant edge in the brains department. Pat is convinced she could do a lot better with the place than their boss Norm Duncan (James Rebhorn) is doing, so she works up a plan to usurp Norm, convincing Mac to rob the restaurant's safe and then murder Norm, using the robbery as a way of throwing the police off their trail. Though two stoners (Andy Dick and Timothy Speed Levitch) and a would-be fortune teller (Amy Smart) warn Mac that bad luck awaits him, he gathers his courage and goes through with his wife's scheme. At first, things seem to have gone just as Pat hoped, and after Norm's sons (Geoff Dunsworth and Tom Guiry) sell the restaurant to the McBeths (they pay for it with the money they stole from Norm), business takes off. But vegetarian police detective McDuff (Christopher Walken) is convinced there's foul play at the new center of the fast food universe, and when the McBeths fear that fry cook Banco (Kevin Corrigan) knows more than he's letting on, Pat decides another murder is on the menu. Scotland, PA premiered at the 2001 Sundance Film Festival; incidentally, Shakespeare does receive screen credit for his contribution to the story.
Critic Reviews for Scotland, Pa.
Audience Reviews for Scotland, Pa.
½
A bit bumpy in execution but an interesting take on updating MacBeth.
70s-tastic! Clever adaptation of Macbeth with modern kills, dynasties, and sexplay. Maura Tierney is hot.
Alice Shen
Super Reviewer
Terrible. This goes to show that Christopher Walken really will do anything he is offered. It also proves that Andy Dick must die. Only good part: McBeth shoves a hamburger in vegetarian Walkens mouth as he tries to kill him.
Curtis Lilly
Super Reviewer
Scotland, Pa. Quotes
There are no approved quotes yet for this movie.