Scream, Blacula, Scream
(1973)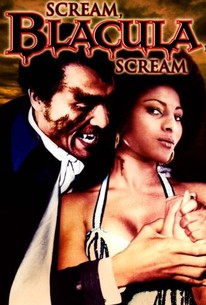 Scream, Blacula, Scream Photos
Movie Info
In this horror sequel from the director of Count Yorga, Vampire, a member of an American voodoo cult revives the fanged Prince Manuwalde (William Marshall), only to become his slave. Manuwalde then puts the bite on various victims, but finds himself fixating on pretty Lisa (Pam Grier), a voodoo princess whom he believes can finally put his soul to rest. Lynne Moody, Nicholas Worth, and Bernie Hamilton are among the familiar cast, but the various occult trappings seem somewhat out of place in the modern Los Angeles setting and the production values are pretty shabby. Blaxploitation and camp fans should still find it mildly amusing, however, and Shakespearean actor Marshall is a lot of fun as the obsessive vampire.
Critic Reviews for Scream, Blacula, Scream
Audience Reviews for Scream, Blacula, Scream
½
I was really disappointed with this Blacula sequel. What was up with all the stupid voodoo stuff? Voodoo has zombies, not vampires, I think. Anyway, it's way worse than the first one.
This, the follow up to "Blacula" is a little bit more campy (both in general, and in a stereotypical blaxploitation way), but not quite as fun or good. It's okay enough, but is noticeably less good, and that's a disappointment. The tie-in with voodoo is decent I suppose, but the film just leaves a lot to be desired. Also, it's maybe a couple of minutes longer than its predecessor, but the terrible pacing makes it feel at least 30 minutes longer. Too bad it drags, because this could have been a real scream (hehe). William Marshall returns as Mamuwalde/Blacula, and onces again gives a good performances (far better than he needs to, really). With his hight and booming deep voice, he makes for a striking and imposing vampire. Pam Grier co-stars in this (much to my delight), and, while her performance is good, ishe's been better. Unfortunately, neither she nor Marshall can fully save this, but they do ensure that the film is still watchable. The original was no masterpiece, but they at least tried to aspire to somehting beyond mere exploitation. This is just lazy. I do still kind of recommend it, but only for the absolutely curious.
Chris Weber
Super Reviewer
That's just what this movie was, a Scream. Its a pretty cool movie that's for sure, I was very surprised that this movie has been out this long and I have never seen it. Blacula is a African Vampire, guess there kind of different because when they hunger blood they turn into kind of wolf man look guy, but the other vampires look a little more like zombies. Anyway this movie is loaded with stars from the 1970 time frame. Its a fun movie, clean and you will enjoy the 70'ties cloths and backgrounds. No less then a 4 on this one, as far as the fright meter I wouldn't go above 2 as its more funny then scary. Enjoy, oh and its going in my collection.
Bruce Bruce
Super Reviewer
Scream, Blacula, Scream Quotes
There are no approved quotes yet for this movie.