Scum
(1980)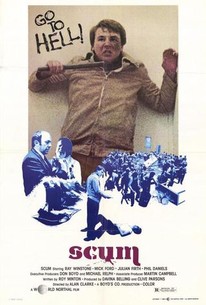 Movie Info
SCUM tells the story of Carlin, a new reform school inmate with a reputation as a hard case. The authorities encourage gang leader Pongo to humble Carlin, but he beats Pongo down and takes over the mantle of Daddy. The guards institute a reign of terror and neglect, with Carlin emerging as an unlikely leader. One of the most important British features of the last 35 years, SCUM still packs a wallop.
Audience Reviews for Scum
Despite being released over 30 years ago, I was pleasantly surprised to find that Scum has lost none of its punch. Scum is an unforgiving portrait of the British borstal system; 1 hour and 30 minutes of both physical and psychological abuse. The film examines the hierarchy of the borstal, looking at the behaviour and roles of both the wardens and the inmates, questioning who's worst. The hierarchy is ruptured when Carlin (Ray Winstone) enters the borstal. Carlin claims to be looking for 'no trouble', but really is equally or even more pugnacious and skullduggerous than the rest. Much like 'Cool Hand Luke' and 'One Flew Over The Cuckoo's Nest', Scum explores the infuriating frustration of injustice in 'correctional' institutions. Personally, I find few things worse than the abuse of power, whether it's within an institution or within a family. I'm sure many would agree with me on that, subsequently making Scum an engrossing, resonating and unpleasant watch for all. The character of Archer, an intelligent and supposedly staunch vegetarian who's out to make life hard for the screws, delivers strands of Roy Minton's script that brilliantly observe the system and the angry men that staff these institutions - "Although you have spent your life in the prison service, you are still only a basic officer. Now, who gets the stick for that? Us. Who pays for that daily humiliation?" It's Carlin's arrival, growth and ultimately tenure as 'The Daddy' that serves as the central narrative of the film, but, as a whole, it is a condemnation of the British borstal system that's the films message and purpose. Through convincing performances and harsh realism, Scum accomplishes what it sets out to achieve: depict the reprehensible conditions of violence, racism and corruption in these institutions. One may wonder if the film exaggerated these conditions, but the borstal system was abolished by government in 1982, replacing it with 'Youth Custody Centres'. I think this speaks volumes for Scum's credibility.
Jack Hawkins
Super Reviewer
A film I've always meant to waatch, but only just got around to seeing it. It's the 70's and gritty brutal life inside a English Borstal for boys urges it's prisioners to compete for survival of the fittest. A harsh reality reflecting the violence, rape, racial segregation etc etc and was no doubt controversial but very honest for it's time. This had to be the role that gave Ray Winstone his big break and made him into a British (at least) household name.
Lady D'arbanville
Super Reviewer
Still incredibly shocking and disturbing even 30 years on. Delivers a strong depiction of life in a borstal during the 1970's. A film that must be watched... More to follow in a bit
Sarah Gaish
Super Reviewer