Seabiscuit
(2003)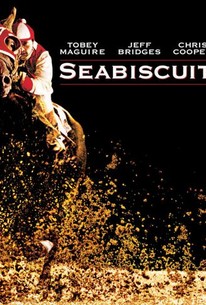 Movie Info
For his sophomore effort, director Gary Ross re-teams with Tobey Maguire and William H. Macy, stars of his directorial debut Pleasantville, for this depression-era sports drama about the legendary racehorse, Seabiscuit. Unlike 1949's fictionalized The Story of Seabiscuit starring Shirley Temple, this version attempts to present a factual account of the story, which centers around the three men who saw the famed horse to victory. Jeff Bridges stars as Charles Howard, an entrepreneur who owns the unlikely racehorse. Howard teams with partially blind boxer-turned-jockey Red Pollard (Maguire in his first performance since annihilating the 2002 box-office in Spider-Man) and horse trainer Tom Smith (Chris Cooper fresh off his best-supporting actor Oscar for Adaptation). Together, the three work to help the famed horse to several symbolic victories that helped to inspire a downtrodden 1930s America. The supporting cast, headed by Macy, includes Elizabeth Banks (Spider-Man) and real-life jockeys Gary Stevens and Chris McCarron. ~ Matthew Tobey, Rovi
News & Interviews for Seabiscuit
Critic Reviews for Seabiscuit
Audience Reviews for Seabiscuit
The Rocky Balboa story set in horse-racing, about making good on second chances, and directly related to the tough times of the Depression, when many people felt they needed a second chance. David McCullough adds a qualifying touch as narrator and William Macy delights as color man. Still, its more a psuedo-quality work than a work of actual quality.
Kevin M. Williams
Super Reviewer
Seabiscuit is a wonderful sports drama film about the race horse Seabiscuit. Set during the Great Depression, Seabiscuit tells the famed story of the men who would make Seabiscuit a winning race horse. This is a superb film with a great story and above all, a great cast. The talent involved make this a must see film alone. But the story of this film along with the great performances is really what makes this film soar. The film of course, like every other picture, is not perfect; but what we've got here in Seabiscuit is an incredible true story set during hard times. Seabiscuit has something for everyone and the story and the acting are all top notch. Jeff Bridges, Chris Cooper, William H. Macy and of course Seabiscuit's Jockey, Tobey McGuire all shine on screen. If you're looking for a sports film that's different from all the rest, you might want to check this one out. This is a splendid film that the whole family can enjoy. The end result of Seabiscuit is an entertaining film that has an inspiring true story that has some stunning horse race scenes, good amounts of drama, and the cast consisting of established talent make this quite the film to watch. I enjoyed this film, and though it follows the trend of "inspiring" films, the viewer can appreciate that this is set during the great depression, which adds so much genuine inspiring moments than your usual "inspiring" film because most "inspiring" films are fictional, while this one is not. An entertaining and unforgettable film.
This exquisitely produced, based-on-fact drama is a throwback to those wonderful 1940s tales of the little guy toughing it out. As Americans suffer through the Depression, a plucky racehorse brings three men together: a failed jockey (Tobey Maguire), a dispossessed cowboy (Chris Cooper) and a millionaire (Jeff Bridges) trying to forget family tragedy. Poignant news photographs of the era's suffering poor enhance the riff about social justice. The well-shot races are genuinely thrilling; the period details perfect. Maguire leads an impeccable cast, with humour from William H. Macy as an excitable radio announcer. Great, classic storytelling.
Dean McKenna
Super Reviewer
Seabiscuit Quotes
| | |
| --- | --- |
| Red Pollard: | Brick by brick, my citizens. Brick by brick. |
| | |
| --- | --- |
| Red Pollard: | And this, the most unkindest cut of all. |
| | |
| --- | --- |
| George Woolf: | Wanta know what I think? |
| Charles Howard: | Of course. |
| George Woolf: | I think it's better to break a man's leg than his heart. |
| | |
| --- | --- |
| Charles Howard: | You could be crippled for the rest of your life. |
| Red Pollard: | I WAS crippled for the rest of my life. I got better. He made me better. Hell, you made me better. |
| Red Pollard: | I *was* crippled for the rest of my life. I got better. He made me better. |