Searching for Bobby Fischer
(1993)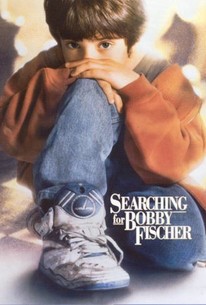 TOMATOMETER
AUDIENCE SCORE
Critic Consensus: As sensitive as the young man at its center, Searching for Bobby Fischer uses a prodigy's struggle to find personal balance as the background for a powerfully moving drama.
Searching for Bobby Fischer Photos
Movie Info
Searching for Bobby Fischer was inspired by the life of chess prodigy Josh Waitzkin, as written by his father Fred Waitzkin. Josh (Max Pomeranc) is a "regular kid" who begins evincing signs of being a genius at chess. His father (Joe Mantegna) encourages this, hoping that it won't fundamentally change his son's healthy outlook on life. But Josh is taken under the wing of cold-blooded chess instructor Bruce Pandolfini (Ben Kingsley), who indoctrinates the boy in the "Bobby Fischer" strategy. Unfortunately, Pandolfini emphasizes all of Fischer's negative traits, especially his contempt for his opponents. Josh is in danger throughout the film of sacrificing his essential decency, but in a rousing conclusion, the boy is able to successfully blend ruthless competition with good sportsmanship.
News & Interviews for Searching for Bobby Fischer
Critic Reviews for Searching for Bobby Fischer
Audience Reviews for Searching for Bobby Fischer
½
Thank God for Netflix Instant Stream. This is a movie that flew under the radar for a very long time and, to a good surprise, it was a great movie. You're probably thinking, "A movie bout chess was good?" lol - yes. All the performances, though not very unique, were very solid especially the main protagonist. Wow, one of the best performances I've seen from a child actor, ever. "Searching for Bobby Fischer" is a great family movie with very pure and child-like goals; with Hollywood ridden with gritty, gory, and sex orientated themes and images, "Searching for Bobby Fischer" reminds audiences confidently, what we must protect and treasure the most - the heart.
I feel like changing things up today. I want to talk about one of my favorite movies in the entire world: Searching for Bobby Fischer. I sincerely hope you all have seen this film, but if you haven't let me tell you a little bit about it and why I love it so much. The movie came out in 1993 but I don't think I saw it then. I recall renting this film a year or so later but not knowing one thing about it. Sure it had Ben Kingsley and Joe Montegna in it. I knew who they were, of course. But I had no idea who Bobby Fischer was, and once I discovered this was about chess, I really wasn't sure a film about it would appeal to me. Why? Well, I don't play chess. I tried a few times but it just isn't my game. Trust me. Nonetheless, I watched the film and sat that there in awe throughout the entire movie and beyond. It turned out to be one of the most inspirational movies I have ever seen. The movie is based on the book by New York Times writer, Fred Waitzkin. It's the true story about his son Josh Waitzkin, a 6 year-old boy, who turns out to be a chess phenom. Still doesn't sound appealing - well, wait! The story isn't so much about how great this little boy is at chess but what great character he possesses. Most stories about a person's unexplained ability usually begs the question: How does someone, at the age of 6, become one of the best chess players in the world? Searching for Bobby Fischer doesn't answer that but asks: How does a 6 year-old have so much compassion for people that he doesn't want anyone to feel bad especially when he beats them in chess. I know, some of you out there are thinking - but it's a competition. You have to WANT to win and get over the fact that your opponent will feel bad if you win. It's the nature of the game (of life), right? Well, I for one do not like making anyone feel bad and go out of my way to make sure I never do. I don't like playing games because of that. I prefer things like solitaire or other types of time consuming activities where there is no winning or losing - no killer instinct here. So I reveled in the moral of this story - you can be the best or even just good at something but you don't have to hate your opponent or even dislike them in order to beat them. But if you disagree with me - that's fine. There is so much more to this film that you must see. Another aspect of Searching for Bobby Fischer that keeps this movie in my top 10 - learn when to have fun and not let the competition control your life. Sometimes we all let goals and dreams consume us and forget there is more to life. This film shows that there needs to be a good balance between work and play or you will go insane. Throughout the film, Josh narrates facts about Bobby Fischer and it really makes you think he may be on to something with this "not hating your opponent" mode of thought. I can't tell you how many times I have watched this film. In fact, I watched it a few months ago with my children, who by the way are both really good at chess, and they enjoyed the film. This is a good tale for all ages. It doesn't talk down the the audience - especially the young ones. I believe showing a real story about a young boy who struggles with a quality he has is a great way to show your kids, and maybe a few adults, that somethings shouldn't be altered - no matter how much others want you to change. My favorite part: The final scene with the last line that Josh says to his friend. It makes me choke up and smile all at the same time - at every single viewing.
Tired of Previews
Super Reviewer
Films that have their titles changed tend to be trying to market something else and normally raise alarm bells as to why the change was even neccessary. Where I come from, this is known as "Innocent Moves" (maybe because most people don't know who Bobby Fischer is) but thankfully the film itself doesn't suffer from this title change. Sports writer Fred Waitzkin (Joe Mantegna) discovers that his 7 year old son Josh (Max Pomeranc) has a genius for chess, and enters him in competition, losing sight of what this does to the boy's psyche - and his pure enjoyment of the game. Over the years we've had numerous films depicting the competitive nature in people. These have mainly been through sports films like Baseball, Football and most successfully Boxing. This time however, director Steven Zaillain uses the game of Chess as his triumph of the human spirit. What makes this all the more enjoyable though, is that it's based on a real life story and Josh Waitzkin was a genuine chess genius at a very young age. With him struggling to fulfill his own potential we are also given a running commentary on the career and odd disappearance of one time Chess champion Bobby Fischer. Zaillian handles the material sensitively and Max Pomeranc is absolutely superb as young Waitzkin. It's a shame Pomeranc never furthered his acting career, as here he shows a maturity beyond his years and manages to be very expressive with just a glance and very few words. There's also plenty of fine support by Joe Mantegna and Joan Allen as his loving and supportive parents and his two teachers Ben Kingsley and Laurence Fishburne are perfectly contrasted in their characters and different approaches to the game. The real star of the show though, is the game itself. Despite the often slow, ruminative appearance of a Chess game, it is in fact, a very exciting and thought provoking pastime. This excitement is perfectly captured by the late great cinematographer Conrad Hall, with close-up shots of the ebony and ivory pieces slamming onto the board. Chess has never looked so good and anyone with a great respect for the game - like myself - will find lots to enjoy here. Despite a few melodramatic and cliched moments, this is still an emotional and heartfelt drama, helped by an impressive ensemble of actors. A confident directorial debut by screenwriter Steven Zaillain.
Mark Walker
Super Reviewer
Searching for Bobby Fischer Quotes