Second in Command
(2006)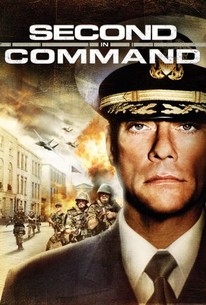 AUDIENCE SCORE
Critic Consensus: No consensus yet.
Movie Info
A skilled official assigned the task of protecting the U.S. ambassador to an unstable Eastern European nation gets trapped in the middle of a deadly coup d'etat in an action-packed tale of political intrigue starring Jean-Claude Van Damme and directed by Simon Fellows. Sam Keenan (Van Damme)'s job is to protect the U.S. ambassador to a troubled Eastern European nation at all costs. When a collection of heavily armed local insurgents stages a violent revolt and the country's president seeks refuge in the very embassy building where Keenan and his charge are based, the devoted officer soon finds himself guarding two men against an army of angry killers. With the embassy overtaken by insurgents and nothing more than a small detachment of U.S. Marines to fend off the fire, Keenan is forced to work overtime just to keep his men breathing and overcome the merciless invading onslaught.
Critic Reviews for Second in Command
Audience Reviews for Second in Command
½
Van damme offers very little in this foreign material arts thriller. The idea has much more going for it then the front cover will have you believing. The problem is the twisting narrative and a really weak plot. The direction is typically grey and cheap which over shadows any real chance for the film. The violence is a little too much at times but its good to see van damme back on the screen. He deserves bigger budgets and its a shame he can't get back to a place he once owned the screen. The film is a quick cash in and sadly offers nothing new, the fights are poorly shot but some of action scenes are fun and showcase some of the budget. Alright for a straight to DVD movie but definitely not a fun van damme film to watch over and over again
Brendan O'Connor
Super Reviewer
½
Second in Command is a modest action thriller joint that delivers the goods in a fast-paced and intense fashion, even though the whole one-idea set-up is familiarly derived. The premise starts off at a breakneck pace and then tightly builds up to its chaotic siege situation with a exhilarating climax with some organic grit. Along the way it offers up a surprise or two and there's no real political interference in how they shape the story, despite the topic at hand and flawed nature. The basic script won't set the film alight, but never falls into any cheesy mumbling. The action scenes, which for this type of film is what we are actually hanging around for. Are handled with great vigour and the set-pieces can raise a sweat. Jean-Claude Van Damme is capably good and fit's the mould perfectly, with his downtrodden and workman like performance of a more beatable and humane character than anything overly heroic.
Steven Vincent Gee
Super Reviewer
Dean McKenna
Super Reviewer
Second in Command Quotes
There are no approved quotes yet for this movie.