Secondhand Lions
(2003)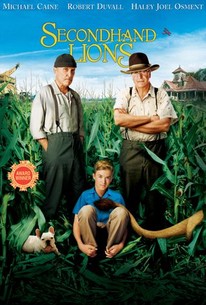 Movie Info
In this family-friendly comedy drama, Walter (Haley Joel Osment) is a shy and bookish boy just short of his teens whose mother impulsively decides to leave him for the summer with his eccentric grand-uncles, Hub (Robert Duvall) and Garth (Michael Caine). Walter isn't especially happy about being left in the middle of Texas with two old men, while Hub and Garth aren't too pleased to be stuck minding a boy, especially one who isn't accustomed to hunting, fishing, or firearms. When Walter starts hearing local gossip about his uncles' wild and wooly pasts, he begins asking a few questions, and while Hub and Garth don't enjoy having the boy poking into their pasts, as they start telling tales of their youthful adventures, they find themselves itching for some new adventures in their lives. Soon Walter is a semi-willing accomplice as his elderly guardians rediscover the wild, impulsive spirit of youth. Secondhand Lions was produced in part by the well-respected visual effects house Digital Domain, who also helped create the imagery for the film's flashback sequences. ~ Mark Deming, Rovi
News & Interviews for Secondhand Lions
Critic Reviews for Secondhand Lions
Audience Reviews for Secondhand Lions
½
The starting looked like it was going to be hella boring but surprisingly, it wasn't. It was one of those movies that gets interesting in every minute. Really good movie. Recommend everyone to watch.
Dead Angel
Super Reviewer
½
Secondhand Lions tries too hard to appeal to a family friendly crowd, and because of it it loses much of its bite. But when it lets go of its reins it can really turn into something magical.
Jennifer Xu
Super Reviewer
Although it might strike some viewers as bland, it is actually a beautiful, clever movie with a strong story line.
Jason Lalljee
Super Reviewer
Secondhand Lions Quotes
| | |
| --- | --- |
| Hub McCaan: | If you need somethin', you'd best find it yourself, or even better, learn to do without. |
| | |
| --- | --- |
| Hub McCaan: | If you need something, you'd best find it yourself, or even better, learn to do without. |
| | |
| --- | --- |
| Hub McCaan: | Jesus! Jesus! Jesus! No, wait, that was The Apostle. |
| | |
| --- | --- |
| Walter: | I'm gonna go inside and watch television. |
| Walter: | I'm going to go inside and watch television. |
| Garth McCaan: | Ain't got one?. |
| Garth McCaan: | Ain't got one. |
| Walter: | No television. |
| Walter: | No television? |