Seconds
(1966)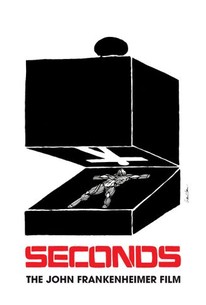 TOMATOMETER
AUDIENCE SCORE
Critic Consensus: Featuring dazzling, disorienting cinematography from the great James Wong Howe and a strong lead performance by Rock Hudson, Seconds is a compellingly paranoid take on the legend of Faust.
Movie Info
Fifty-ish Arthur Hamilton (John Randolph) is approached by a secret company that promises to provide him with a fresh start, complete with a new face (Rock Hudson) and lifestyle. But as he struggles with his own sense of identity, he begins to have second thoughts.
Critic Reviews for Seconds
Audience Reviews for Seconds
A great atmospheric psychological thriller in the vain of Orson Welles' The Trail. Also features the first use of the Snori-Cam (to the best of my knowledge)
Ken Stachnik
Super Reviewer
Bold, highly psychological science fiction that might have gone on to enjoy a cult reputation if 2001 hadn't stolen its thunder two years later. Seconds is nowhere near the auteurial spectacle that Kubrick's magnum opus is, but its premise gracefully avoids Twilight Zone-style moralization by communicating its sensations through aesthetics, not thematic monologuing. The ending is wordy, but it doesn't say half as much as Rock Hudson's blissful surrender at the wine ceremony, or the disorientation and betrayal he feels at a house party. This approach surely works because of the incredible cinematography, way ahead of its time; it keeps a tight focus around the human aspects of the film, locked behind Hudson's head as he goes through the motions of a painfully dull life or fisheyed on some strange faces looming over him. As a visual representation of a character's inner workings, it's very immediate and unabashedly obvious, but perfectly in sync with the film's own unique claustrophobia. A diamond in the rough, if you can hunt it down.
Drew Smith
Super Reviewer
This movie's plot reminds me of so many other movies I've seen more recently, I wondered if this was were they got their ideas? I hope not, this movie was terribly boring and slow. I did not like it.
Seconds Quotes
There are no approved quotes yet for this movie.