Secret Admirer
(1985)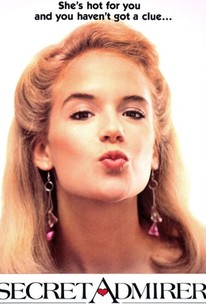 Movie Info
Produced at the height of the teen sex comedy cinema craze in the mid-1980s, Secret Admirer (1985) was the directorial debut of David Greenwalt, who would later move from screwball comedy to horror with the television series The X-Files, Buffy the Vampire Slayer and Angel. C. Thomas Howell stars as Michael Ryan, a high school student who receives an anonymous love note in his locker. Hoping that it's from Deborah Ann Fimple (Kelly Preston), a gorgeous but air-headed classmate who only dates college boys, Michael hatches a scheme with Toni (Lori Loughlin), who is friendly with both him and Deborah, to write her back. What Michael doesn't know, however is that the first letter was really from Toni, who has more than friendship in mind. In the meantime, the unsigned missives fall into the wrong hands, leading Michael's mother, Connie (Dee Wallace-Stone) to believe that her husband George (Cliff De Young) is having an affair with his night school teacher, Elizabeth (Leigh Taylor-Young), who is none other than Deborah's mother. George had better watch his back, however, as Elizabeth's husband is Lieutenant Lou Fimple (Fred Ward), a tough cop who's having a very bad week. As the romantic complications pile up, Toni becomes Michael's Cyrano de Bergerac, penning his letters but pining for him as he gets closer to winning Deborah over. ~ Karl Williams, Rovi
Critic Reviews for Secret Admirer
Audience Reviews for Secret Admirer
Another predictable teen romance from the 80s, but it does have a good cast and a couple of funny scenes.
½
Hilarious teen comedy on a Secret Admirer letter. How one letter intrigues the mind of Michael ( C.Thomas Howell) who is curious to see who his admirer is and pin points the hot girl in school Debbie. Only thing is Michael needs his best friend Toni to help him out with delivering the letters. Soon, it get's in the wrong hands and causes mayhem. Hilarious and funny and a great 80's favorite. Fred Ward makes a nice addition to this comedy. :)
Donna Dawson
Super Reviewer
½
Oh the 80's. How I do enjoy making fun of it.
Curtis Lilly
Super Reviewer
Secret Admirer Quotes
There are no approved quotes yet for this movie.