Secret Beyond the Door
(1948)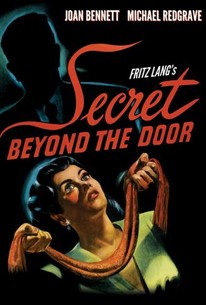 Secret Beyond the Door Photos
Movie Info
Master filmmaker Fritz Lang directed this dark, haunting melodrama that centers on a lonely heiress who goes on vacation to Mexico and returns married to the publisher of a magazine on architecture. The honeymoon goes well, but as time passes, her husband's darker side begins to appear and the woman begins to fear that her beloved is a cold-blooded killer.
Critic Reviews for Secret Beyond the Door
Audience Reviews for Secret Beyond the Door
definitely the weakest of the lang/bennett films but the very weird plot makes it worth watching. however the ending is a total copout
Stella Dallas
Super Reviewer
½
Considering the year it was made, it is quite a perverse film. Some great visuals and a very interesting (if not overly complex) premise. Part of both it's charm and short coming is the horribly dated dialog, but the potential is there for a great film.
From a story standpoint, Secret Beyond the Door is nothing special. Actually, its pretty damn dull. It's the story of an impetuous marriage where the woman (the beautiful Joan Bennett in this case) gets more than she bargained for. By today's standards it comes off as silly and even predictable. And on top of it all, there are so many elements that could've added to the story so well but instead leaving you needing more. But since Fritz Lang directed Secret Beyond the Door and his visual style makes up for the story's numerous shortcomings, I forgave a lot. So much in the last act was a work of art that by the time you get to the end of this movie with its convenient ending you're just left with torn feelings because you saw something magnificent but had to endure this mundane story to see it. I don't know. See it yourself, make your own call...
Michael Gildea
Super Reviewer
Secret Beyond the Door Quotes
There are no approved quotes yet for this movie.