Daltry Calhoun
(2005)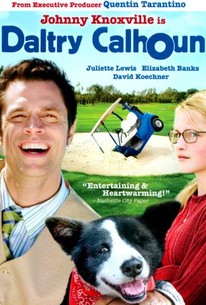 Movie Info
When seed and sod entrepreneur Daltry Calhoun's (Johnny Knoxville) abandoned ex-girlfriend shows up on his doorstep with the daughter he never knew he had, the reformed ladies' man finds out that you can never truly escape your past -- even when it seems you may have no future. Calhoun is a local celebrity and self-made entrepreneur who made a name for himself by selling locally produced turf that blankets many of the nation's most exclusive golf courses, and his quirky television spots have won the hearts of television viewers across Ducktown, TN. When Daltry's ex-girlfriend May (Elizabeth Banks) arrives unannounced with talented teenage daughter June (Sophie Traub) in tow, she confides that her terminal illness has forced her to seek him out in hopes that he can care for their daughter after she is gone. Despite the early success of Daltry's business and the popularity of his kitschy commercials, things have been looking rather grim lately and Daltry has begun liquidating his assets in hopes of keeping his head above water. Though smitten shopkeeper Flora (Juliette Lewis) has offered financial help to Daltry, the kindly offers have fallen on deaf ears. Now, with the odds weighing heavily against him, Daltry vows to make up for lost time by doing right in the eyes of his family and community and caring for his daughter while getting his business back on track. ~ Jason Buchanan, Rovi
News & Interviews for Daltry Calhoun
Critic Reviews for Daltry Calhoun
Audience Reviews for Daltry Calhoun
A cute feel-good movie. It was okay...
Leigh Ryan
Super Reviewer
½
[font=Century Gothic]In "Daltry Calhoun", Daltry Calhoun(Johnny Knoxville) is on the surface a very successful man, having made his fortune from inventing a new brand of turf.(Daltry's dream is to host a USGA sponsored tournament on a golf course on the property he owns.) Having seen one of his commercials, Daltry's ex, May(Elizabeth Banks), and their daughter, June(Sophie Traub), a precocious 14-year old with dreams of attending Julliard, arrive in town to see him. May is dying and wants to find a good home for her daughter before she dies. But Daltry is actually on the verge of ruin, brought on by the side effects of his invention...[/font] [font=Century Gothic][/font] [font=Century Gothic]"Daltry Calhoun" is not a bad movie, exactly, but it also has nothing new to say about the changes in life and being prepared for them. The movie tries to rely on a quirky charm which is frankly not there. And Knoxville does make for an awkward lead.[/font]
Daltry Calhoun Quotes
There are no approved quotes yet for this movie.