The Secret of Dr. Kildare
(1939)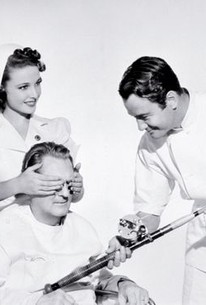 AUDIENCE SCORE
Critic Consensus: No consensus yet.
The Secret of Dr. Kildare Photos
Movie Info
In this third installment of MGM's "Dr. Kildare" series, Dr. James Kildare (Lew Ayres) comes to the rescue when his supervisor/mentor Dr. Gillespie (Lionel Barrymore) nearly collapses from overwork. Gillespie is seeking a permanent cure for pneumonia, and must ask Kildare for assistance when the task proves beyond his physical ability. The older doctor eventually does collapse, and the diagnosis is cancer. Gillespie recovers, while Kildare finds his hands full in juggling both the pneumonia cure and the case of a woman (Helen Gilbert) suffering from psychosomatic blindness. But what's the "secret" of Dr. Kildare? Well...that's a secret (until you see the film).
Critic Reviews for The Secret of Dr. Kildare
Audience Reviews for The Secret of Dr. Kildare
An okay movie. I was a bit annoyed that Dr. Kildare didn't really have any kind of deep dark secret, or any secrets at all, really. I did enjoy the movie, though, it was charming and dramatic. Of course, I knew what was wrong with Dr. Kildare's patient two scenes before he did, so he seemed like an idiot, as did some of the other characters sometimes. This movie started out trying to be a dark dramatic adventure, but ended up a sweet happy family friendly drama instead. It's interesting, but disappointing.
The Secret of Dr. Kildare Quotes
There are no approved quotes yet for this movie.