Secret of the Cave
(2007)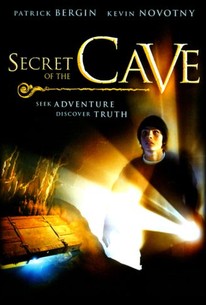 AUDIENCE SCORE
Critic Consensus: No consensus yet.
Secret of the Cave Photos
Movie Info
Zach Gray helms the Gaelic-flavored, spiritually charged mystery Secret of the Cave -- one of the first major cinematic productions of Southern Adventist University. The story unfurls on the idyllic, rocky coasts of Ireland, where a young boy, Roy Wallace (Kevin Novotny), is spending the summer with his Irish dad (Patrick Bergin of Love Crimes and Sleeping with the Enemy). Soon, inexplicable, otherworldly events befall the village, and rumors swirl through its streets of strange spirits and hauntings. Initially, Roy tries to tie these events to any number of locals -- everyone from an oddball hermit to an eccentric fisherman. He also notices that each event impacts the hamlet in a beneficial way. In time, Roy traces the events to their origin -- a strange sea cave characterized by many as a source of enchantment -- and vows to unveil the grotto's mystical secrets. Joseph Kelly and Sean Murphy co-star; Gray, Scott Fogg, David George, and Aaron Adams co-adapted Arthur S. Maxwell's children's novel.
Critic Reviews for Secret of the Cave
All Critics (2) | Fresh (1) | Rotten (1)
A film production sponsored by Southern Adventist University and featuring a large number of university production team members.
Message-heavy mystery has boy dealing with parents' divorce.
Audience Reviews for Secret of the Cave
½
This is a film that intrigued me, because of how original it seemed to be, but in the end I was sadly disappointed. The story follows a twelve year old boy who is sent to Ireland to live with distant relatives for the Summer. Once in this small coastal village, he learns that for decades people have claimed to have heard strange noises coming from a cave underneath the cemetery. When I first heard about this film, I thought it could be a hidden gem. I knew it would be someone strange, but I really had no idea just how strange it would be. The lead is newcomer, Kevin Novotny, and he did a pretty good job, especially in his first film. Unfortunately his performance is wasted in a film that is very slow and really doesn't go anywhere. The dialogue, the town, and the characters were very weird and the direction was a joke! As soon as something interesting started, the film would jump to something else that really doesn't fit with anything else. Roy doesn't even have the courage to enter the cave until the last fifteen minutes of the movie and once he does, what he finds is extremely stupid. Novotny's performance aside, the only positive thing I can say about this film was that it wasn't predictable, because you really couldn't figure out what the hell was going on half the time. The Secret of The Cave is one that you really won't care about, featured in a film full of mumbled lines and oddballs, it seemed interesting, but it's not, you can most definitely skip this one.
Todd Smith
Super Reviewer
Excellent Kid's Movie and at the same time a great Adult Movie, as it kept my attention. Seem like their's not much difference in Europe or America how kids get dumped on relatives, thank god for my Aunts and Uncles. More movie like this should be made fro families. 5 Stars all the way
Bruce Bruce
Super Reviewer
Secret of the Cave Quotes
There are no approved quotes yet for this movie.