Secret Window
(2004)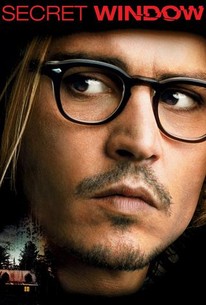 Movie Info
From writer/director David Koepp (Stir of Echoes) comes this filmed adaptation of Stephen King's novella Secret Window, Secret Garden, one of four stories in the collection Four Past Midnight. Johnny Depp stars as Mort Rainey, a recently divorced author who decides to take some time off at his cottage. Unfortunately for Rainey, John Shooter (John Turturro), an unbalanced wannabe writer, tracks him down, claiming that Rainey plagiarized his work. Also starring Maria Bello, Charles S. Dutton, and Timothy Hutton, Secret Window is the second story from Four Past Midnight to be adapted as a film, the first being 1995's made-for-television The Langoliers. ~ Matthew Tobey, Rovi
News & Interviews for Secret Window
Critic Reviews for Secret Window
Audience Reviews for Secret Window
Based on a short story of Stephen King's, this is a mind twister of a film with the kind of performance that Johnny Depp can pull off. Watching this now, it does seem much more predictable than when it was released, perhaps because a lot of similar themed films have been made since, easy watching though! My favourite role of John Turturro's.
Lady D'arbanville
Super Reviewer
½
Based on a novella by Stephen King, this is a fun little story about a writer (big surprise) named Mort Rainey who, while trying to work at his secluded lakeside cabin, is menaced by a mysterious stranger named John Shooter who claims that Mort palgiarized his work, and has no problems with resorting to psychotic behavior in order to see that he gets justice. You may or may not have guessed this, but this film has a twist ending. And while the twist isn't bad, I think the film could have been far more interesting had there been no twist. For that to work though, other parts of the story would have to be rewritten and that sort of thing, but what I'm getting at is that, while the film isn't that bad, it's not really all that great either, and it doesn't really hold up to much scrutiny or repeat viewings. As a single watch though, it's passable. I enjoyed seeing the stakes get raised between Mort and John, and the film does have a good sense of mood, tone, and atmosphere, and a pretty decent pace. It just gets to me because many films that contain twists are usually full of holes, and I get the feeling that the novella probably doesn't have these sort of problems, mostly because of the medium and whatnot. All in all though, I give this film a lot of credit because, even though the story is nothing fresh and it isn't infallible, it is quite fun, watchble, and entertaining. Philip Glass provides a pretty nice score, and Koepp seems to be having fun as the helmer. Plus, there's a good cast here, even though it would be better seeing them here with some stronger material. Still though, Depp is good as this sort of thing, and his character is rather likeable (mostly), and Turturro, though maybe phoning it in, is also good at this sort of thing as well. I just wish that Dutton had more screentime and stuff to do, and that more could have been done with Hutton and Bello. What time these three do have is okay, but Hutton probably has the shortest end of the stick (they probably could have gotten a lesser known and it would have been better). Hutton isn't bad, but he feels unnecessary. Honestly, I should dock this one a half star, but I can't really bring myself to do it because the good outweigh the bad.
Chris Weber
Super Reviewer
Unexpected twists and turns. Johnny Depp is fantatsic!
Bethany Murphy
Super Reviewer
Secret Window Quotes
| | |
| --- | --- |
| Mort Rainey: | You know, the only thing that matters, is the ending. It's the most important part of the story, the ending. And this one, is very good. This one's perfect. |
| | |
| --- | --- |
| John Shooter: | I want you to fix it. |
| Mort Rainey: | What would you like me to fix? |
| John Shooter: | My ending. The one you wrecked. I can't decide what's worse: stealing my story or ruining the ending. Mine was perfect. |
| Mort Rainey: | I don't even think I read your whole story. |
| John Shooter: | Oh, I bet you did. 'I know I can do it, Todd Downey said, helping himself to another ear of corn from the steaming bowl. I'm sure that in time, her death will be a mystery even to me.' That's how the story ends, pilgrim, it's the only ending. You gonna write it for me, ang get it published and it's gonna have my name on it. |
| Mort Rainey: | I'd be more than happy to write your ending, Mr. Shooter. |
| | |
| --- | --- |
| Mort Rainey: | (The end of the story) "I know I can do it", Todd Downey said, helping himself to another ear of corn from the steaming bowl. I'm sure that in time, every bit of her will be gone, and that her death will be a mystery, even to me. |
| Mort Rainey: | [voiceover] I know I can do it, Todd Downey said, helping himself to another ear of corn from the steaming bowl. I'm sure that in time, every bit of her will be gone and her death will be a mystery... even to me. |
| | |
| --- | --- |
| John Shooter: | I seen your wife today. She's purty. |