Secretariat
(2010)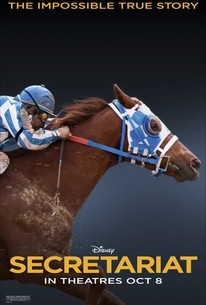 TOMATOMETER
AUDIENCE SCORE
Critic Consensus: Rousing, heartwarming, and squarely traditional, Secretariat offers exactly what you'd expect from an inspirational Disney drama -- no more, and no less.
Movie Info
Based on the Novel "Secretariat: The Making of a Champion" By William Nack, Secretariat chronicles the spectacular journey of the 1973 Triple Crown winner. Housewife and mother Penny Chenery (Diane Lane) agrees to take over her ailing father's Virginia-based Meadow Stables, despite her lack of horse-racing knowledge. Against all odds, Chenery-with the help of veteran trainer Lucien Laurin (John Malkovich)-manages to navigate the male-dominated business, ultimately fostering the first Triple Crown winner in 25 years and what may be the greatest racehorse of all time.-- (C) Disney
Critic Reviews for Secretariat
Audience Reviews for Secretariat
Secretariat is a well crafted family film in the vein of Seabiscuit. With a great cast headed by Diane Lane and John Malkovich, Secretariat is an entertaining picture directed by Randall Wallace who previously directed We Were Soldiers, The Man in the Iron Mask and wrote the script to Braveheart. This is quite a different project for him to take on, but he crafts a great film here yet again, and Wallace is a fine director who is able to tell a great story. The cast here are great, and each brings something memorable to the screen. I personally preferred this film over Seabiscuit, and it is a highly engaging film from start to finish. If you love these films, then definitely give this one a shot. The racing scenes are well done and quite thrilling and are of course the highlight of the film. Horse themed movies tend to be bland nowadays and not too interesting, but this one has heart and charm, and is based by an incredible true story that is just worth seeing due to the fact that odds were against Secretariat to win the Triple Crown, and he astounded everyone and became the most famous racehorse who won the crown and became an icon of the sport. Although it is marred by predictability, this is worth seeing due to a strong cast, a great story and great direction. This is a must see for anyone looking for a great drama to watch, and although it follows the same formula as the traditional "horse race movies", it is also a bit different as well. Secretariat was unique, and this film is a fine tribute to that racing career. If you enjoyed Seabiscuit, then you'll most likely enjoy this one too.
½
True story about the best race horse who won the triple crown due to the determination of its owner, trainer and jockey. Great cast. If you like Seabiscuit you will like this movie.
Candy Rose
Super Reviewer
An Extremely well produced film - glossy, shiny and well paced, this Disney production manages to get past some heavy handed Disneyesque sentimentality and deliver the goods in a ripping yarn about the greatest racehorse to ever run a race, and the woman who believed in him. Diane Lane is near oscar worthy in her presentation of Penny Chenery, mother of four, and a housewife to an attorney. They reside in Colorado, and as the story begins, Penny has to rush back to the familial homestead in Virginia upon the death of her mother. When she arrives she finds the farm in decline and disrepair due mainly from her father being in the throes of Altzheimers. Fortunately, in a lucid moment, Dad bred two of his mares to a famous stallion (Bold Ruler). The story is not only of how Penny saves the farm, risking quite a lot (including the ire of her brother for not selling), but her belief in the horse she calls Big Red. There's plenty scenes of bonding and horse sense, letting you know how noble these beasts are, and how smart and intuitive Big Red is. This is a bit over the top, as is the perhaps too constant reminders of a woman standing up to the status quo in what was at the time a man's sport and a man's world. Regardless, it makes for a good story, playing up the "us against them" aspect as well as the perhaps silent bond between horse and those closest to it. In fact, by showing us some "human" aspects of the legendary horse - his love for the limelight, etc. - the film draws you in and makes you seriously root for Secretariat. There's plenty of drama in the well shot racing scenes and, even if you know the ending of the races, somehow there's still drama and you're on the edge of your seat yelling "go Big Red". Perhaps it's because I'm old enough to remember those races and being totally in awe of what has to be the greatest performance by a horse ever (the Belmont Stakes). I still get chills recalling the Sport's Illustrated cover of that magnificent, sturdy beast pounding the track into submission with the simple title "super". But the film is not just about those iconic races and all the drama surrounding them. There's the human tale of how Penny chose her trainer and jockey. In yet another quirky, yet oddly effective performance, John Malkovich shines as the French Canadian trainer, frequently muttering in French. Then there is the joy of seeing the always wonderful Margo Martindale - just so natural in every role she plays. I found it interesting to see both Margo and ex congressman Fred Thompson in the same film; recalling the wonderful romance they portrayed over several episodes of the Sidney Lumet TV show 100 Centre St which aired several years ago. Both actors so fully able to just "be". There's a wonderfully filmed sequence that aptly sums up the allure of this film. As the Belmont is being run and fans and critics alike utter that there's no way any horse can sustain such a torrid pace, the film backs off and shows the empty far turn with the white shiny rail on the right hand side. A voice over narration repeats a bit of poetry from the film's beginning; talking about how a warrior will always answer the call of the bugle - and then here comes Big Red around the turn, all by himself, thundering down the straight away and into history.
paul sandberg
Super Reviewer
Secretariat Quotes
| | |
| --- | --- |
| Penny Chenery: | "This is about life being ahead of you and you run at it! Because you never know how far you can run unless you run." |
| Penny Chenery: | This is not about going back. This is about life being ahead of you and you run at it! Because you never know how far you can run unless you run. |
| | |
| --- | --- |
| Lucien Laurin: | He's slower than a fat man encased in concrete being drug backwards. |
| | |
| --- | --- |
| Penny Chenery: | This is not about going back. This is about life being ahead of you and you running at it! You never know where is will take you! |