Secretary
(2002)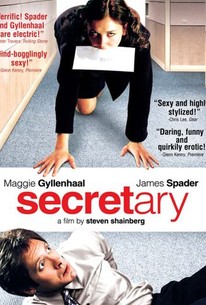 Movie Info
Sadomasochism provides the backdrop for a very unusual employer/employee relationship in this very offbeat romantic drama from filmmaker Steven Shainberg. Lee Holloway (Maggie Gyllenhaal) is a shy young woman, who, after a brief spell in a mental institution, is released in the care of her overprotective mother (Lesley Ann Warren) and hard-drinking father (Stephen McHattie). Hoping to make good on her own, Lee begins looking for a job, and in her free time indulges in her odd habit of inflicting pain upon herself in various ways. Lee is hired as a secretary by E. Edward Grey (James Spader), a grim and ruthlessly efficient attorney who warns her that her work will be both dull and demanding. Lee takes to the job with genuine enthusiasm, and while she's recently acquired a new boyfriend, Peter (Jeremy Davies), she's far more intrigued by Grey's coldly patrician demeanor. While Grey often criticizes Lee, she seems to thrive on his abuse, but one day he crosses a line when he insists upon spanking her after some minor mistake. Lee quite enjoys the treatment, and wants it to continue, but Grey can no longer take pleasure humiliating Lee when he knows that she likes it; he fires her, despite her pleas to be allowed to stay. Finally discovering the key to her sexual and emotional needs, Lee tries to persuade Peter to be rough with her, but he simply doesn't have the taste or talent for it, and Lee soon maps out a last-ditch effort to win back her position with Grey, whatever the cost. Secretary won a special award for "Originality" at the 2002 Sundance Film Festival. ~ Mark Deming, Rovi
Critic Reviews for Secretary
Audience Reviews for Secretary
"To thine own self be true," or so the saying goes but that's not always such an easy thing to do, society being society. Finding yourself, and then possibly finding love, is the gist here, capably realized by an able cast and in a memorable fashion.
Kevin M. Williams
Super Reviewer
What makes this film stand out as a truly adorable romance is the surprising way that it tackles the spicy kinkiness of its subject as a means for two people to find happiness, while it boasts a great score/soundtrack and Maggie Gyllenhaal shines in a lovely performance.
Carlos Magalhães
Super Reviewer
Based on a short story, written by Mary Gaitskill, "Secretary" tells the story of a mousy young woman who wants to change her life after a lifetime of cutting and self-hatred. Enter her boss (Spader) who is happy to help her change her ways by taking advantage of her sexually, culminating in a sadomasochistic relationship. The film is a test for the audience, to see if you believe it's a love story between two people who want a sub/dom relationship pertaining to a romantic interest that incorporates mutual respect and love, or a story about a man dominating a woman. The former would be a complex and often accepted story, since Gyllenhaal's character has to persuade her paramour that that is indeed what she wants, and that public attention doesn't limit her affection. It's rather sweet in places, but very dark in others, earnest in its depiction of these kinds of sexual fantasies and their participants. It's a bold endeavor for director Shainberg, one that pays off inevitably.
Spencer S.
Super Reviewer
Secretary Quotes
There are no approved quotes yet for this movie.