Seddok, l'Erede di Satana (Atom Age Vampire)
(1960)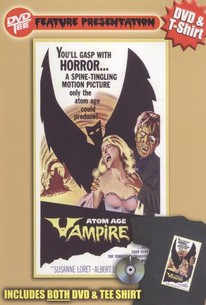 AUDIENCE SCORE
Critic Consensus: No consensus yet.
Movie Info
A scientist who is studying the effects of nuclear bomb explosions on victims falls for a woman whose face was destroyed in a car accident. He restores her face, then must keep killing young women to obtain the cells he needs to keep her face beautiful.
Critic Reviews for Seddok, l'Erede di Satana (Atom Age Vampire)
Audience Reviews for Seddok, l'Erede di Satana (Atom Age Vampire)
One part Wolf Man, one part Mr Hyde, and two parts mad scientist fable, this Italian film has no vampires, only a "doctor/professor" trying to perfect his rad new treatment for skin burns. It involves hormone therapy and radiation treatment. Only, wait. The doc was previously in Hiroshima, studying the effects of radiation, got exposed himself ... and that CHANGED him. There's movie mayhem in them there hills coming right up as the doc gets in way over his head, but you've seen it all before.
Kevin M. Williams
Super Reviewer
½
Really just a not very good B horror film, that has nothing to do with vampires at all. More of a mad scientist movie than anything else. It seems like the English title was just poorly translated anyways. The English version also comes off as extremely flawed. Not sure if this is more or less the same as the Italian version, or if drastic changes were made as far as dialogue and plot are concerned. The English version also has a different director so I wouldn't be at all surprised to find that out. At the same time the story was pretty good, the film was just poorly edited, the dubs are horrendous, rgw actings pretty bad and so on. At the same time this is a b movie through and through so that is to be expected. I don't rate these movies by the same criteria as newer and more professionally made movies either, so my rating just reflects my enjoyment of it. Honestly I was bored throughout. Can't really recommend this one, but might be worth a watch if you really like this sort of thing. Susanne Loret is pretty damn hot too, so this has that going for it.
Ed Fucking Harris
Super Reviewer
Not sure why iit has the word Vampire in the title, no blood sucking here only gland removal, A cute ole Drive in Movie, Pure swill, Black and White. Not a great one for halloween, Only 3 stars
Bruce Bruce
Super Reviewer
Seddok, l'Erede di Satana (Atom Age Vampire) Quotes
There are no approved quotes yet for this movie.