Seducing Doctor Lewis (La grande séduction)
(2004)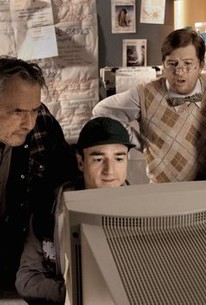 Seducing Doctor Lewis (La grande séduction) Photos
Movie Info
St. Marie-La-Mauderne is a tiny fishing village in what some may call the middle of nowhere. For eight years the locals have stood in line for weekly welfare checks, wearing patched sweaters and glum expressions, and remembering the good old days when the catch was good, the fishermen were proud, and life seemed a lot more magical. Then one day, a chance at salvation: a small company wants to build a factory on the island, but only if a full-time doctor lives in St. Marie. The situation seems hopeless until a young doctor in Montreal has an unfortunate incident with a traffic cop and finds himself on a boat to the faraway village. But how to convince handsome, young, urbane Dr. Lewis to stay in this dreary little spot on the map? As it turns out, the answer lies in just a bit of seductive subterfuge--along with a tapped phone, a hastily assembled cricket team, and something called Festival de Beef Stroganoff.
Critic Reviews for Seducing Doctor Lewis (La grande séduction)
Audience Reviews for Seducing Doctor Lewis (La grande séduction)
Charming Québecois film that I thank the Toronto Public Library for stocking. (Note to all non-Torontonians: our current mayor is trying to privatize our library system, or if not that, then cut out its heart. I'm not sure that I would ever discover under-marketed Canadian films without our library system, which would be a shame because they only rarely disappoint.) So, about this movie itself: a very small, remote community is trying to land a factory, but the owners won't move there without there being a doctor in town. When the mayor packs up and leaves under cover of night, a local man attempts to convince the townspeople to pull themselves up by their bootstraps and show the newly arrived Dr. Lewis - exiled there as community service for a misdemeanour - the beauty and charm of small-town life. The ending is a little tidy for me, but overall it's a pleasure to watch. A movie you won't be sorry to have seen, if you can manage to track it down - check your local library first!
Daniel Perry
Super Reviewer
Obviously a classic among 'québécois' films. And I obviously liked it because my dad plays a damn great part in it... Hehe...
Laurence Collin
Super Reviewer
Seducing Doctor Lewis (La grande séduction) Quotes
There are no approved quotes yet for this movie.