See No Evil 2
(2014)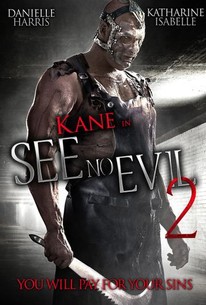 Movie Info
See No Evil 2 revives the nightmare of the first film when Jacob Goodnight rises from the dead in the city morgue after his killing spree at the Blackwell hotel. In this ominous, underground locker for the dead, a group of medical students fight to survive as this deranged psychopath once again starts to pick them apart one by one.
News & Interviews for See No Evil 2
Critic Reviews for See No Evil 2
Audience Reviews for See No Evil 2
Let's face it the whole slasher movie has been dead for many years now and the first See No Evil movie was pretty awful and this one is worse, Same old Friday 13th rehashed plot, Full of stupid people who die in the same old boring ways, I had no problem with Glenn Jacobs as the villain but it's not enough to make this predictable, Boring film any good, But if they ever needed an actor to play Jason Vorhees then look no further than Glenn Jacobs, He's 7 feet tall, Very well built and could probably do most of his stunts as he's taken his fair share of bumps in Wwe, Anyway the film is terrible but give Glenn Jacobs something half decent he'd be worth watching.
Jamie Clarke
Super Reviewer
Katherine Isabelle provides some genuine laughs and the Soska Sisters dish out a few visually compelling shots, but ultimately I can't figure out why this sequel ever got made.
½
While this movie certainly won't win over any new fans to the horror genre, it's a slightly better than average slasher that's, honestly, considerably better than the original film. Honestly, while I don't remember much about See No Evil, I remember not liking it. But that film came out over 9 years ago, so I'd have to go back and revisit it to see if it improves upon second viewing, though I really doubt it. I think the film benefits from the Soska sisters directing the film. These women know their horror and they definitely bring a lot of life to what is a really tired and cliched genre. Though, the problem with the film is, that the Soskas are working with a script that wasn't written by them. While I'm sure they had some input into certain script modifications, I think the film would've been better if they had major creative involvement. The casting of Katharine Isabelle was clearly their move. And it pays off because Katharine is pretty great in this movie and is, easily, the most memorable character in the entire film. Again, it's not like the film re-invents the slasher wheel in any way, and it's actually fairly content at playing into those cliches, but it's a surprisingly better film that one would imagine. Glen Jacobs, as I mentioned in the review of the first film, does have a presence about him, since he is at, or near, 7-feet tall, so he plays the part really well, at least from a physical standpoint. He's, obviously, not a great actor since, I think, this would only be his second major role in a film. But he looks menacing and that's, really, what's most important in a film like this. I think this also benefits from a more dialed back approach, it's simply not just a slasher, but it does have moments where it builds tension and does it effectively at that. It's not great or anything, but at least it's something more than the usual stuff. The characters aren't great, they're fairly one-dimensional at that and, outside of Katharine Isabelle, no one really stands out. They do try to give the characters something more to do, but it doesn't really add that much. The acting is fine, nothing special and, as mentioned, the only really memorable performance ends up being Katharine Isabelle's. With that said, I still think this is better than most anyone would've ever expected it to be and a considerably better film than the first one, so I'd recommend if you have Amazon Prime Video, even if it's barely slightly above average.
Jesse Ortega
Super Reviewer
See No Evil 2 Quotes
There are no approved quotes yet for this movie.