Seems Like Old Times
(1980)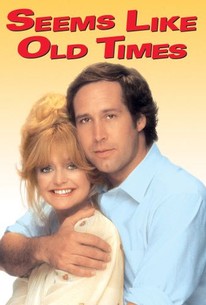 Seems Like Old Times Photos
Movie Info
For the first (and thus far the only) time in his career, Chevy Chase plays a genuinely sympathetic character in Neil Simon's Seems Like Old Times. This time around, Chase is a divorced novelist who is abducted by crooks and set up as the fall guy in a bank robbery. Arrested, Chase manages to escape and to make his way to the home of ex-wife Goldie Hawn, now a highly respected liberal defense attorney. Chase's unexpected arrival coincides with an important dinner party on behalf of Goldie's current husband, district attorney Charles Grodin. At first making every effort to give Chase the boot, Hawn, ever the champion of the underdog finally decides to help him out of his dilemma--much to the discomfort of her politically ambitious husband. Wisely, Grodin does not play his character as an unpleasant stuffed shirt; he is as likeable as Chase and Hawn, giving the farcical plot convolutions a tinge of reality. We care about the people involved, thus the laughs spring as much from characterization as they do from the situation. If only Seems Like Old Times didn't have that lame-brained final close up.....
Critic Reviews for Seems Like Old Times
Audience Reviews for Seems Like Old Times
½
An easily forgotten, but not altogether horrible romantic comedy, this turkey was written by Neil Simon in his first time writing a screenplay straight for the screen. All the elements for a good eighties slapstick comedy are there: Chevy Chase as the bumbling misanthropic foil, Goldie Hawn as the slightly bubble headed but still do-good protagonist, and Charles Grodin as her long suffering second husband. While there isn't anything new to see in yet another romantic comedy about a love triangle, it still has the same zest and slapstick humor of the old Hollywood goofball comedies of the thirties and forties, which is what Neil Simon was going for. What I find repellant is how long they drag out every single, solitary, gag. The wife hides her ex from her current husband, and oftentimes is almost caught for her efforts, and so it's awkward and funny, and eventually she rambles something incoherent and stumbles out of the room. We've all seen these pratfalls before, but lingering on bad puns does not make them funny, as is the same rule of thumb for prompting chemistry between two leads. Though there are some genuinely feel good moments, it's nothing new compared to the rest of Simon's repertoire.
Spencer S.
Super Reviewer
With a heartfelt admiration for the Marx Bros. and vaudevillian drawing room pieces, Neil Simon's writing takes center stage in this afternoon comedy about an ex-husband's abrupt reappearance in the life of his ex-wife's happy, successful, and remarried, life. This only lacks a cymbal crash after every line. Cornball fans will be happy.
Kevin M. Williams
Super Reviewer
A hilarious comedy about love and marriage. It's sort of a love adventure, and it's fun. I really liked this movie, and it has a good cast too.
Seems Like Old Times Quotes
There are no approved quotes yet for this movie.