Self/Less
(2015)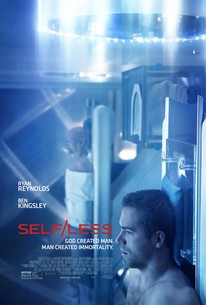 TOMATOMETER
AUDIENCE SCORE
Critic Consensus: Self/less boasts a potential-packed premise, but does frustratingly little with it, settling for lackluster action at the expense of interesting ideas.
Movie Info
In this provocative psychological science fiction thriller, an extremely wealthy man (Academy Award winner Ben Kingsley) dying from cancer undergoes a radical medical procedure that transfers his consciousness into the body of a healthy young man (Ryan Reynolds). But all is not as it seems when he starts to uncover the mystery of the body's origin and the secret organization that will kill to protect its cause. (C) Focus
News & Interviews for Self/Less
Critic Reviews for Self/Less
Audience Reviews for Self/Less
½
Though its themes are a bit familiar, Self/less is an exciting and provocative film. When faced with his impending death a wealthy businessman named Damian Hale undergoes an experimental procedure to have his consciousness placed into a genetically engineered body, but after experiencing several vivid hallucinations he discovers that he's actually been placed inside the body of another person whose mind is being suppressed. Ryan Reynolds gives a strong performance, as does Ben Kingsley. And the film does a good job at exploring the moral questions that arise from extending life and switching bodies, along with the nature of life and what makes up a person. Extraordinarily compelling, Self/less is a smart and well-crafted sci-fi thriller.
Dann Michalski
Super Reviewer
½
An uber-rich guy who is dying finds out about a way to live longer through some science fiction, which is a nice start to the piece and a decent idea for a story. Then it degenerates into a standard chase montage with the ever present people pointing guns at other people scenes. Eh.
Kevin M. Williams
Super Reviewer
½
More intriguing in premise than in practice, Self/Less is still none the less an entertaining sci-fi movie with intermittent moments of cleverness and heart. What makes it unusual is the quality of its actors. Reynolds and Kingsley are more than proven in the field, but in Self/Less they (particularly Kingsley) go from nailing it to mailing it seemingly at random, then switch back to A-grade the very next scene. Where I had trouble making a connection to the narrative of the movie was in the body switching aspect. It's made clear that Kingsley has awoken in Reynold's body, but at no point in the film did it really feel like this was anything other than a completely new character, rather than an old one in a new form. Still Self/Less is one of the more engaging films I've seen this year.