Send Me No Flowers
(1964)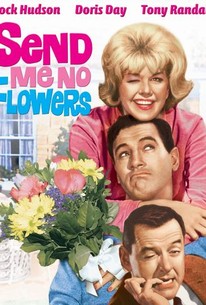 Send Me No Flowers Photos
Movie Info
Light and laugh-filled, Send Me No Flowers is typical Rock Hudson and Doris Day fare. He plays a hypochondriac who is sure he's about to die, so he decides he'll find the next husband for his dear wife. She's sure he's guilt-stricken from some affair he's likely had. Sprinkle in some appearances from smoothy Tony Randall, and this film becomes pretty worthy watching.
Critic Reviews for Send Me No Flowers
Audience Reviews for Send Me No Flowers
½
A hypochondriac sets about to ensure his wife's care after learning of his imminent demise ... only he's mistaken, he's not dying. Drawing room hijinks ensue, aided by the capable Tony Randall and Paul Lynde as supporting players. The focus though is on the chemistry between Rock Hudson and Doris Day, and this survives scrutiny easily as they were a likeable pairing.
Kevin M. Williams
Super Reviewer
Poor George, who thinks he's dying, tries to find a suitable husband for his wife after he's passed on. Light and breezy comedy of errors is like a gorgeously shot sitcom full of colorful production design that highlights suburban style of the mid-60s. Coy screenplay by Julius J. Epstein, based on the play by Norman Barasch and Carroll Moore, is surprisingly suggestive at times, in a very naive sort of way. Stars Doris Day and Rock Hudson display great chemistry in their third and last pairing together. The enthusiastic cast also includes Tony Randall, Paul Lynde and Clint Walker. Everyone inhabits their characters so comfortably, it's like they've been playing them on the stage for years. Whimsical music by Frank De Vol boosts this playful farce.
Mark Hobin
Super Reviewer
Probably the greatest of the Doris Day-Rock Hudson comedies and when this came out in 1964,this was to be considered the last of great comedies of the 1960's that starred Doris Day and Rock Hudson. Hilarious hijinks ensumes with Tony Randall,Edward Andrews and the great Paul Lynde. Clint Walker also stars.
Mister Caple
Super Reviewer
Send Me No Flowers Quotes
There are no approved quotes yet for this movie.