Senso
(1954)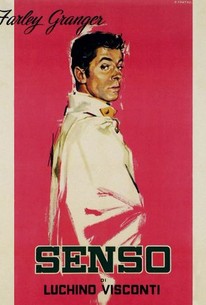 Movie Info
Against the backdrop of the Italian-Austrian war of unification, troubled Countess Livia Serpieri (Alida Valli) betrays her country for the love of an Austrian rogue, Lieutenant Franz Mahler (Farley Granger). As her resources dwindle, Livia comes to realize that their love might not be as pure as she thought.
Audience Reviews for Senso
"Senso" begins at the opera in Venice in 1866. During an intermission, a less than spontaneous demonstration breaks out in favor of Italian independence. Roberto Ussoni(Massimo Girotti) gets so carried away with exuberance that he challenges Franz Mahler(Farley Granger), a young Austrian officer, to a duel. Luckily for Roberto, his cousin Livia(Alida Valli) intercedes on his behalf, so he is only exiled for a year, like quite a few other of his comrades. But Livia's dealings with Franz do not end there, as her attraction grows despite the whole husband(Heinz Moog) thing. "Senso" is a sexy, deeply resonant and moving melodrama that contains a lot of interesting history. With some smart thoughts on occupation, this story is set at a pivotal time and place and made not that long after World War II. That being said, this is not and was probably never intended to be an Italian "Gone with the Wind." By comparison, "Senso" is much more intimate than epic in its exploration of a torrid love affair where more than one taboo is broken and the participants lose track of everything going on around them. While I normally have no problem with this sort of behavior, here it is clear that everybody has to decide which side they are on.
A feast for the eyes this lush melodrama may be an acquired taste for some but I doubt anyone could say it wasn't visually stunning. Venice is rendered so beautifully you will want to hop the next flight there and with the composition of all the other scenes it is like watching a story take place inside of paintings. However as gorgeous as all that is it also can be distracting and take you out of the story as you study the detail which at times feels a bit surreal. Having only seen Alida Valli in her english language films where she often seemed stiff and ill at ease her performance here is quite a revelation. She is fully in command of the screen and her anguished turmoil is compelling to watch. Farley is not bad although his part really doesn't offer him more of a chance than to play a very handsome but contemptible bastard.
½
Looks beautiful in sumptuous Technicolor, but I found the story to be deathly dull. I could barely finish it. This tale of war, betrayal, and forbidden love might be fine for some, but it's not for me.
Senso Quotes
There are no approved quotes yet for this movie.